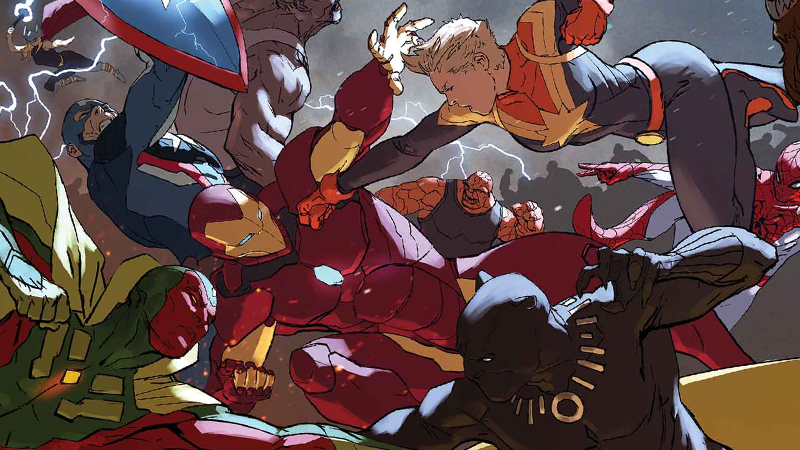 Marvel Comics loves throwing its superheroes against each other in flashy crossovers that shake up its fiction. But its latest tentpole event—this year's Civil War II—is struggling to keep us entertained or interested.
There's a history of superheroes fighting each other that stretches back decades, all the way back to the Human Torch and Sub-Mariner's battles in 1940. It's standard operating procedure for large groups of Marvel Comics superheroes to argue over issues with punches and energy blasts. Results have varied with regards to major storylines using this device; some have been great and others not so good. Written by Brian Michael Bendis and with art from David Marquez, Sean Izaakse, and Justin Ponsor, Civil War II is about the philosophical debate about what to do with foreknowledge of catastrophic events. Marvel's heroes have split into anti- and pro-interventionist camps, led by Iron Man and Captain Marvel.
The whole affair feels flabbier than predecessors like Avengers Vs. X-Men. With Civil War II #5 out this week, my io9 colleague James Whitbrook and I got together to talk about the problems bogging down the event and the main Civil War II miniseries.
---
Evan Narcisse: It feels like Civil War II has been going on forever and, with each new issue of the main series, my desire for it to be over intensifies. I can't remember the last time a crossover bothered me this much. DC's Convergence last year was dumb but offered great fan service, at least. This doesn't have that going for it.

James Whitbrook: While I'm liking it more than the original Civil War—admittedly not a high barrier to pass—I agree on wanting this spiritual sequel over. Give me Ulysses' vision where Tony and Carol realise how thick-headed they're being and actually work together as heroes again.
The fan service is actually a really interesting point to bring up—that's something Secret Wars had in spades, while telling its story, especially in all the fun spinoffs. Civil War II feels like fan disservice, where your favorite characters are all doing things you don't want them to do for some spectacularly not-great reasons... especially Carol.