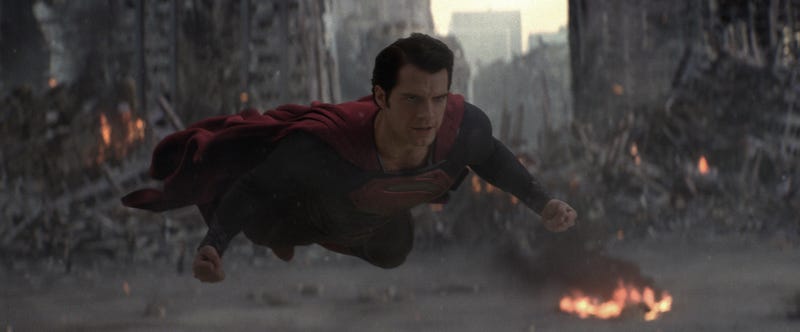 There's really only one reason to see the new Superman movie: to watch people with superhuman powers pounding the crap out of each other, flying into each other and burninating each other with heat vision. Luckily, The Man of Steel more than delivers on the super-punching front, even as it muddles through in other ways.
Minor spoilers ahead...
Seriously, the action scenes in this movie are fantastic. They're like a virtuoso performance, a dissertation in smackdownology. Especially the final 40 minutes or so, when Superman and his fellow Kryptonians are just kicking the shit out of each other. There's an agility and abandon to the fighting in this movie that's really beautiful to watch, and director Zack Snyder and his crew have clearly thought a lot about the physics of how people who could fly and punch super hard would actually fight.
This is probably the first superhero movie that's made the fight scenes feel like sweet, sweet violence, instead of something sterile and choreographed. And it's the second movie, after The Avengers, to show big all-out fight scenes that feel like comic-book brawls translated to the screen. Or like a kid playing with action figures, brought to life. The fight scenes in this film contain several jaw-dropping moments that I hadn't ever seen done on screen before.