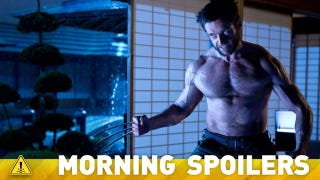 Hugh Jackman mulls an eventual Wolverine recast. How will ScarJo's pregnancy affect Avengers 2? Check out new promos for Captain America 2 and Divergent, along with some Orphan Black teasers. Plus the first plot details for Continuum season 3. Spoilers now!
X-Men
Even though Hugh Jackman's still mulling over doing another Wolverine movie, he's aware that a recasting will have to come one day:
Look, that's inevitable, man. Anyone who thinks they're indispensable in this business is fooling themselves. But I feel unbelievably blessed to have this part. I never thought in a million years I'd get to play him seven times. Every day I walk on the set with the claws and the hair, I thank my lucky stars. I don't take any of it for granted. To think that in a second version we'd have this cast and this director, and you guys don't know the script, but I would say probably the best script of all of them, is pretty amazing. I think that's why I'm still here. I'm sure by the way, that it won't always be my decision to always be here. At some point, someone will close the door on me… [Laughs]
---
Amazing Spider-Man 2
The viral site the Daily Bugle has provided another huge hint about the movie's villains — this time providing some clues as to why Harry Osborn might be willing to subject himself to dangerous tests. It could be because OsCorp has abandoned human subjects testing, and Harry has no other subjects available. The Bugle writes:
Oscorp Industries announced today that it has destroyed any and all research it has done in the horrifying field of cross-genetics. This news comes in the wake of the recent sentencing of former Oscorp geneticist turned terrifying lizard creature Dr. Curt Connors. Once a pioneer in the field of cross-genetics, Connors's work transformed him into a literal monster who rampaged across Manhattan.
[via ComicBook.com]
---
Avengers: Age of Ultron
Following the news that Scarlett Johansson is pregnant came the news that Black Widow's scenes in Avengers: Age of Ultron have been fast-tracked. Although it hasn't been confirmed by Marvel, E!'s reporting that she'll report to the set on April 5th, right after finishing the press rounds for Captain America: The Winter Soldier. [Coming Soon]
---
Captain America: The Winter Soldier
Speaking of the Captain America sequel, here's a new TV spot. [Comic Book Resources]
---
Divergent
And here's a TV spot for Divergent. [Coming Soon]
---
Transfomers 4: Age of Extinction
In advance of the trailer that premiered yesterday, the movie's title sequence was also released. [Transformer World]