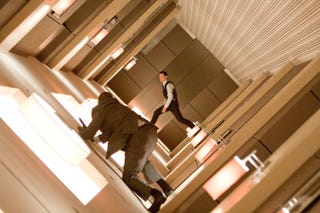 By administering mild electric currents to the brain, neuroscientists from Frankfurt University have successfully induced self-awareness in sleeping volunteers. Amazingly, the technique could be used to help people take better control of their dreams. But it's also a discovery that's offering critical insights into the very nature of consciousness itself.
Gamma waves have been linked to consciousness before — a process called gamma coherence — but this is the first time scientists have used it to coax self-awareness during the dream cycle.
Gamma waves are a neural oscillation pattern with frequencies between 25 and 100 Hz, with 40 Hz being the sweet spot. Back in 1999, neuroscientist Andreas K. Engel theorized that synchronous 40 Hz oscillations could solve the so-called binding problem — the still unknown ability of the mind to seamlessly segregate elements and combine problems (e.g., our capacity to distinguish elements in complex patterns, allowing us to perceive them as discrete objects). Other work has correlated gamma waves with near-death experiences — experiences that are linked to intense electrical surges that cause "hyper real" thoughts in our brains.