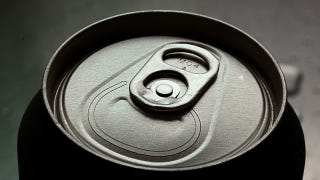 Making explosive gas is a basic skill, and doing it can teach you a lot about chemistry. What you use that gas for is up to you. But please be careful.
Aluminum is a metal we take too much for granted. We can't be blamed for that, because aluminum tames itself for us. Whenever it's exposed to oxygen - which you may have noticed flitting around our atmosphere - the outermost layer of aluminum atoms get together with oxygen atoms and settle down into a relatively nonreactive substance.
This isn't a marriage so much as a mugging. If the oxygen weren't lying around, easily available for the taking, aluminum would grab it away from elements, including water molecules. Aluminum is powerful enough to rip apart water molecules, but usually doesn't get a chance, because it's sealed in a casing of its own oxide. There is a way to keep it from sealing itself away from the world. Last week we showed you how you could turn aluminum objects, like soda cans, into paper-fragile substances that you could rip apart with your bare hands. All you had to do was add a little gallium.