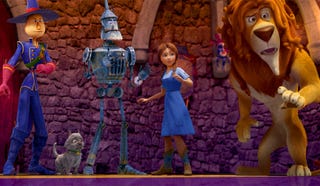 Legends of Oz: Dorothy's Return arrives in theaters limping. After long delays, endless rewrites and decisions like "let's add songs by Bryan Adams," it finally comes out with a 5 percent fresh rating on Rotten Tomatoes. What the heck went wrong with this film, anyway?
Legends of Oz is a sequel to The Wizard of Oz, based on a book written by L. Frank Baum's great-grandson Roger Stanton Baum in 1989. In a nutshell, the Wicked Witch of the West's brother, known as the Jester, has gotten the Wicked Witch's broomstick, coupled with a magic orb, and is using it to take over Oz. So the Scarecrow, Tin Man and Lion summon Dorothy back to Oz, to save everybody once again.
The thing about Legends of Oz is, it's not terrible. It's just not particularly good. The thought that kept running through my mind when watching this film is that the bar has been raised for animated films in the past decade, in terms of both budget and creativity. Legends of Oz just can't quite compete, in a world where even the lesser animated films are things like The Croods and Turbo.
Everything about this movie, despite its $70 million budget, just seems kind of... off. The animation is very video-game-cut-scene-y. Some of the scenes in Kansas, where the people are supposed to look realistic, run into the Uncanny Valley problem, leaving the humans looking like walking corpses. The songs are incredibly forgettable — I know, Bryan Adams, who'da thought it?.