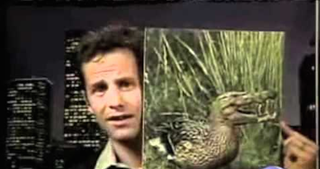 A few years ago, ex-teen heartthrob Kirk Cameron went on Fox News as a pitchman for young-Earth creationism. Claiming there were no transitional fossils, he ridiculed evolution saying that, if it were true, we would have duck-crocodile hybrids. Ha, ha—oh, wait, scientists found a dinosaur that's half duck, half croc.
Cameron appeared as an "expert" on Fox News prior to the airing of an ABC Nightline segment, featuring footage of Cameron participating in a debate on the existence of God.
As Cameron explained:
"Nothing becoming something, blowing up in becoming an organized everything, just doesn't fit logic to me. Plus, Darwin said, in order to prove evolution, which is the number one alternative to God, you've got to be able to prove transitional forms—one animal transitioning into another—and all through the fossil record, we don't find one of these [holds up photoshopped photo], a crocoduck."
Cameron and fellow young-Earth creationist Ray Comfort went on to film this "mockumentary," featuring biologist "Richard Attensquirrel" in search of the elusive crocoduck in the "Swamps of Gopolapus."
But, while the YEC crowd was having fun with their new poster creature, crocoduck became a popular meme to highlight misconceptions about evolution. Richard Dawkins, who began sporting a crocoduck necktie, even devoted a segment of his book, The Greatest Show On Earth: The Evidence for Evolution, to the mythical chimera:
'Why doesn't the fossil record contain a fronkey?' Well, of course, monkeys are not descended from frogs. No sane evolutionist ever said they were, or that ducks are descended from crocodiles or vice versa. Monkeys and frogs share an ancestor, which certainly looked nothing like a frog and nothing like a monkey. Maybe it looked a bit like a salamander, and we do indeed have salamander-like fossils dating from the right time. But that is not the point. Every one of the millions of species of animals shares an ancestor with every other one. If your understanding of evolution is so warped that you think we should expect to see a fronkey and a crocoduck, you should also wax sarcastic about the absence of a doggypotamus and an elephanzee. Indeed, why limit yourself to mammals? Why not a kangaroach (intermediate between kangaroo and cockroach), or an octopard (intermediate between octopus and leopard)? There's an infinite number of animal names you can string together in that way.

Of course hippopotamuses are not descended from dogs, or vice versa. Chimpanzees are not descended from elephants or vice versa, just as monkeys are not descended from frogs. No modern species is descended from any other modern species (if we leave out very recent splits). Just as you can find fossils that approximate to the c ommon ancestor of a frog and a monkey, so you can find fossils that approximate to the common ancestor of elephants and chimpanzees.
But now, science has bestowed upon us the real-life equivalent of a crocoduck—a magnificent specimen that illustrates how evolution actually works.
"It was a chimera"
The real creature was a 50-foot dinosaur called Spinosaurus.