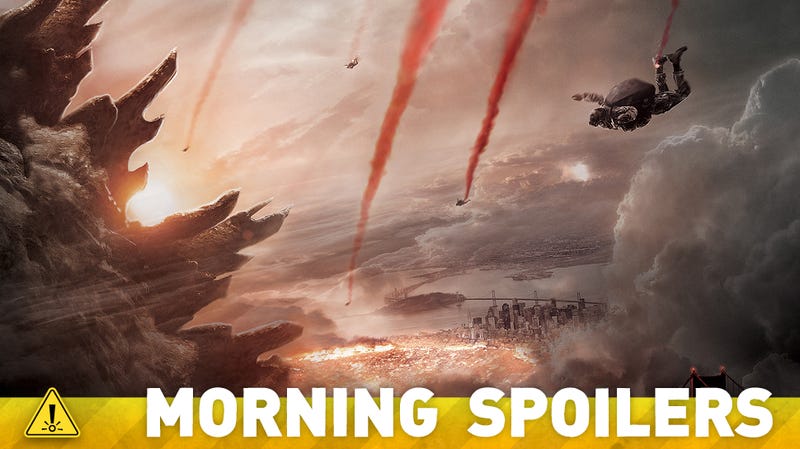 Get a much closer look at Godzilla! Plus find out about filming for Daredevil, Iron Fist, Luke Cage and Jessica Jones. Bryan Singer talks time travel in X-Men: Days of Future Past. Plus another new Game of Thrones teaser. And the team that brought us Sleepy Hollow now presents Matador! Spoilers now!
Top image: Godzilla
Doctor Strange
Kevin Feige commented on the list of possible directors that's been going around:
Well, that article was true, that we're meeting a lot of people now. That article was not true about who we're meeting or what level anybody is. But we're actively looking….We always look at a wide range of people with a wide range of backgrounds. There's only one criteria: do something that we think is really cool. [Laughs] That's about it.
That sounds like the four reported names have met with Marvel, but that the studio hasn't begun to narrow its list yet. In terms of who would play the eponymous Doctor Strange, Feige also seemed to shoot down the various rumors of the role being already filled by a big name:
You know, I would say that we're pretty transparent, right? Doctor Strange would be our — well, depending on when we make it, it could be our 13th, 14th, 15th movie, right? I think if you're looking to track our decision-making and how we've done things, we have a pretty wide track record now where you can sort of see. So, no, a movie star is not required, but that doesn't mean a movie star wouldn't be great. It just depends.
---
X-Men: Days of Future Past
During an on-set interview, Bryan Singer talks about the use of time travel in this film:
To me, that's the thing that made it more appealing than just doing a sequel. It is somewhat a science fiction movie and a time travel movie, which I've never done before - it's a new thing, as opposed to anotherX-Menpicture. That part is challenging and kind of fun. The key is making something where the past and the future can intertwine, and there's a logic to it. You get into a lot of stuff with that.

I thought I'd cracked it. I was talking to James Cameron in New Zealand, and I pitched it to him - I was at Peter Jackson's party. It was a real trip, one of the most fun conversations I've had in years. And he was really into it - he'd done time travel inThe Terminator, so I said, "Okay, here's what I want to do with time travel", and I pitched the thing, and he seemed to approve. He gave me all the physics behind it. So yeah, it's trying to create a time travel film with integrity.
And he says that Scarlet Witch is not in this film, although "there may be a reference." More at the link. [Den of Geek]


---
Godzilla
On the heels of the trailer, here's a new image of Godzilla on the cover of Empire. [Coming Soon]