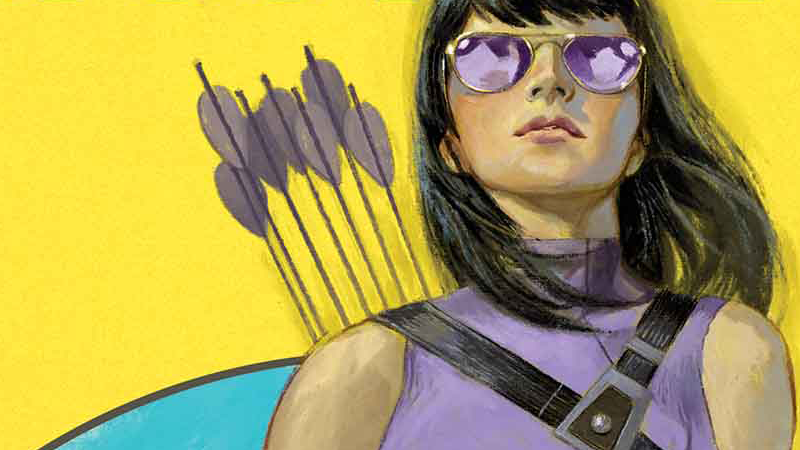 Fans were first introduced to Kate Bishop, Young Avenger, and Hawkeye extraordinaire in 2005. Now, over a decade later, she's getting her own Hawkeye series without sharing the spotlight. But why only now? We spoke to Hawkeye writer Kelly Thompson to discuss where Kate Bishop is headed in Marvel's comic universe.

Hawkeye, written by Thompson (A-Force, Jem and the Holograms, Power Rangers: Pink) and with art by Leonardo Romero and Jordie Bellaire, finds Kate away from the epicentre of the clash between Captain Marvel and Iron Man on the West Coast, away from Hawkeye, and away from her former teammates. But while Kate hasn't hung up her quiver, she's not venturing to L.A. just as a superhero—she's on a case with personal stakes, and entering the world of private investigation in the city of Angels.
Check out our full interview with Kelly Thompson below, as well as an exclusive look at a new Julian Totino Tedesco cover for the first issue and design work by Leonardo Romero, making their debut here on io9.
---
io9: Where does Kate Bishop find herself going into this new Hawkeye series?
Kelly Thompson: Hawkeye finds Kate back in L.A. – Venice Beach, specifically, trying to make a go of things as a P.I. slash superhero. She's there on a personal mission that's a bit of a mystery, but as always with superheroes she gets caught up in doing some good, and as always with P.I.s there's a dame with nice stems involved!

It's been over a decade since Kate first appeared in Young Avengers. Why do you think now the right time for her to (finally) get to be the lead in her own series?

Thompson: I think the critically acclaimed (and beloved!) Matt Fraction, David Aja, Annie Wu Hawkeye series, where Kate was a co-star and Kieron Gillen and Jamie McKelvie's celebrated Young Avengers run really helped remind people what a great character Kate Bishop is (and what a great Hawkeye she is) and really pushed her forward and leveled up her character development. The next natural and obvious step was for Kate to be taking center stage in her own book. And it was just fortuitous timing that the Kate book we were developing wound up being the only solo "Hawkeye" book.

What's it been like working with Leonardo Romero on this book?

Thompson: I've said before that one of the great perks of being a comic book writer is that opening up your email inbox is like Christmas. But developing Hawkeye with Leonardo has been like X-Treme Christmas (forgive the X-Men pun, couldn't resist). Every time I check my email there are so many incredible character designs and world building sketches. Just fantastic stuff. We're very lucky because Leo has a really great style for Kate, who's a more down to earth hero (comparatively) but he's also a great fit for the P.I. noir angle - not every artist can merge those two concepts so seamlessly.

But while we're raving about art let's also mention that we've got Eisner-award winning colorist Jordie Bellaire and we're extremely lucky. I've been dying to work with Jordie since before I started working in comics and I'm excited it's finally coming together. And Jordie and Leo are big fans of each other too…it's a big love fest basically. Our editors Sana Amanat and Charles Beacham will probably just have to keep us from slobbering all over one another all the time (via email of course…nobody lives close enough for IRL slobbering).

How has Civil War II—particularly the fallout over Clint's trial—affected Kate's outlook in this series? She's always loved being a superhero, but is she disillusioned by her fellow heroes' actions?

Thompson: I don't think she's disillusioned so much as just emotionally a bit spent by it and feeling like she needs a clean break from things. Also feeling a bit like she needs to prove to everyone, perhaps most notably herself, that she can stand on her own.