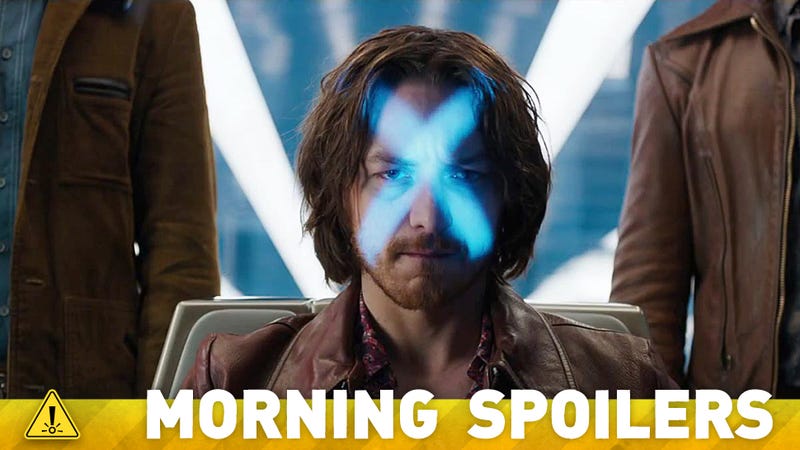 The Divergent sequel has a new director. Amazing Spider-Man 2's viral site sets up B.J. Novak's character. Josh Schwartz talks bringing Chuck back. And does a set photo reveal Eric's fate on True Blood? Plus, new photos from X-Men: Days of Future Past! Spoilers now!
Avengers: Age of Ultron
According to Elizabeth Olsen, we shouldn't expect to see her in the Scarlet Witch's classic costume:
I don't think Joss ever would have hired me, honestly, if he wanted me to wear those outfits. I am not a professional athlete and nor am I a model. Wearing those costumes wouldn't be fun for anyone who wasn't those things. He already had a different idea. It respects and involves the comic book character, but it's different. More rooted. It's for someone today... If someone walked around wearing what she wore in the comics, people would stop and say, 'What the hell… she thinks she's a superhero!'
---
Insurgent
The search for a director for the Divergent sequel is over: The Hollywood Reporter is saying that Robert Schwentke (RED) will direct Insurgent. [The Hollywood Reporter via First Showing]
---
RoboCop
Director Jose Padilha explained how certain lines from the original made it into the new RoboCop and what lines he hopes will have lasting impact:
Well, first thing that I wanted to say here is sometimes people have the illusion that the director's choosing everything. He's choosing the lines, he's choosing … the way I work, the way I worked in Elite Squad 1 & 2 and the way we worked in this movie, also because we had the rehearsal, is that there's freedom on set. People can change their dialogues and we changed dialogues several times. We changed scenes. There's a scene in this movie that I love where Dr. Norton is explaining to Sellars why RoboCop can never be as good as a machine. Just make this work like that, obviously I can't sell average. But that scene wasn't going to happen. The screenplay had no scene where Gary Oldman was in the same room with Michael Keaton. It didn't exist. It was a phone call from China. We were on the set, I looked at them and said, "You guys are here, you're Gary Oldman, you're Michael Keaton. I'm not going to do a phone call!" They would figure out how it happened.

But a lot of the lines that we have in our movie where … Everybody saw RoboCop over and over again, and so once, Jackie Earle Haley said, "I wouldn't buy that for a dollar." He just said it. I think it's kind of like soccer, and I suppose American football and basketball was the same. If you were the coach, and you have great players around you, good things will happen. And that's kind of how the lines that went in there, some of them were in the script, others were not. Others everybody, they just put it into the movie. And I hope some new lines like "Bad cop, RoboCop," "Why's America so robo-phobic?" will have their mark. I hope so.
---
The Amazing Spider-Man 2
Now that we know that B.J. Novak's appearing in this film as Alastair Smythe, the Daily Bugle tumblr has an article directly related to that character. It's called "Rats Leaving a Sinking Ship?" and here's the text: