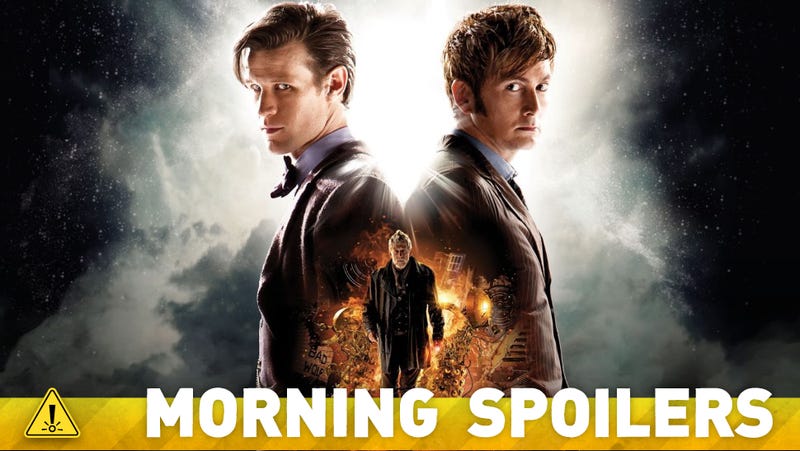 Schwarzenegger is on board, but he might not be the only original Terminator star — or the only major action star — to appear. The first set photos from Matt Smith's final Doctor Who story reveal a bewigged Time Lord. Chris Hemsworth discusses his Avengers and Snow White sequel plans. Plus tons of promos! Spoilers right now!
Top image from Doctor Who.
Man of Steel 2
The online resume for cinematographer Larry Fong – who previously served as director of photography for Zack Snyder's 300, Watchmen, and Sucker Punch – was reportedly updated to include his involvement in the Man of Steel sequel, although that update appears to have been scrubbed after sites got wind of it. Anyway, if Fong does reteam with Snyder for this movie, that might herald a return to the more stylized visual aesthetic of most of Snyder's films, as opposed to the more Dark Knight-inspired look that Transformers cinematographer Amir Mokri brought to Man of Steel. [Superhero Hype]
---
The Avengers: Age of Ultron
Thor actor Chris Hemsworth says he still doesn't know very much about the sequel or its villain, though he's excited that James Spader will be playing the role:
"I haven't had to look into [Ultron] and understand it yet. With all honesty, I have no idea. [James Spader is] great. He's awesome… The whole Avengers thing is now starting to come up in conversations and I'm like, 'God, I've still got another film to shoot and 'Thor 2' hasn't even come out yet. This ['Ultron'] script's not even written yet. I know [screenwriter] Joss [Whedon] is [writing it now]."
[MTV]
---
Thor: The Dark World
Here's the latest international trailer. [Comic Book Movie]
---
The Amazing Spider-Man 2
The always welcome Chris Cooper offered a few choice hints about taking over as Norman Osborn, the once and presumably future Green Goblin:
"Well, this is an introduction to Norman Osborn and apparently this leads to better things in Spider-Man 3. I think it's fair to say he's on his last legs...I don't know if I can say anything more!"
[Access Hollywood via Comic Book Movie]
---
Interstellar
When asked to compare Interstellar to his upcoming drama Dallas Buyers Club, star Matthew McConaughey offered the smallest possible tease about the film and an ever so slightly more detailed answer about what it's like working with director Christopher Nolan:
"I mean, ['Interstellar' is] a much more story-driven picture… [Christopher Nolan] knows what he wants. Oh yeah, he knows everything about what's happening on a film set, and what everybody's doing."
[MTV News via Comic Book Movie]
---
Terminator 5
There's been quite a bit of movement of late with Arnold Schwarzenegger's planned return to the Terminator franchise, so let's make sure we're all up to speed. While absolutely none of this is confirmed, the latest rumor is that Thor: The Dark World director Alan Taylor is at least in talks and possibly signed on to direct the movie. There seems to be some consensus on that bit (not that that necessarily means much) but there's a shakier rumor out there that both Linda Hamilton and Michael Biehn are going to reprise their roles as Sarah Connor and Kyle Reese, and that this somehow leads into this movie being a reboot of the franchise, which doesn't really even begin to make sense – particularly the return of Biehn as Reese, considering he died in the first movie, which would seem to make his inclusion in some sort of reboot not only narratively implausible but also entirely unnecessary.
So, yeah, your guess is as good as mine as to what the hell is going on with this one. But hey, just to add to the fun, another report claims the whole thing will be set in the 1950s, and Dwayne "The Rock" Johnson will play the latest Terminator model, who in this case is dispatched to kill Sarah Connor's parents. Again, I suppose those are things that could happen and, according to some theories of the nature of an infinite universe, must happen somewhere, but it seems kind of unlikely that they're going to happen here anytime soon.
In any case, Arnold Schwarzenegger is back, and there's a decent chance that Alan Taylor is going to direct his being backness. Beyond that is really anyone's guess. [The Inquisitr and Scified]
---
Under the Skin
Shockingly, a distributor has apparently decided a movie in which Scarlett Johansson plays a sexy alien who preys on people – maybe with sex, it's kind of hard to tell – is the sort of thing some people might want to see. As such, A24 has picked up this low-budget film, which recently premiered at the Toronto International Film Festival. The company previously released The Bling Ring and Spring Breakers, so a somewhat limited release is most likely. [The Wrap]
---
Snow White and the Huntsman 2
Chris Hemsworth says he's not sure whether there will be a sequel to the modestly successful fantasy movie, or indeed if he would be in it:
"I don't know. If there's a hunger for another one. I had a great time making the film. I'm not sure what they plan on doing. I'm kind of booked up in Avengers [2], we do Avengers next year and that kind of takes up most of the year. And then press for Thor [2] this year and it just depends when we can squeeze it in. It's getting kind of narrower and narrower."
---
Transformers: Age of Extinction
At the recent Hasbro's Investors Day, company representative Eric Nyman offered this brief tease of the fourth Transformers movie:
"In 2014 our great entertainment story continues. We deliver a full new Transformers story with the release of Transformers 4…. 65 Million Years In The Making. You saw some of the footage this morning. Our great Autobot Heroes team up with... (he didn't tell who) and defeat new villains and save the earth."
[TFW 2005]
---
Doctor Who
As you can probably guess from the image up top, the BBC has released a poster image for the 50th anniversary special, "The Day of the Doctor" (which, for the record, I strongly believe should be properly entitled "The Day of the Doctors," but I'm a madman that way). Anyway, here's a look at the full poster:
Meanwhile, Matt Smith and Jenna Coleman have begun filming the 11th Doctor's final adventure, with the first set photos in Cardiff. One photo shows Coleman's Clara wearing a Christmas-appropriate party hat, although it's what is on Matt Smith's head that's really important – because he buzzed his hair for his role in Ryan Gosling's How to Train a Monster, Smith is wearing a wig for his regeneration story. The wig looks fine so far, although I suppose it's hard to judge how convincing it is until we see some actual footage from the special. In any event, Smith joins a proud tradition of wig-wearing Doctors, an illustrious list that includes William Hartnell as the 1st Doctor, Paul McGann as the 8th Doctor, and Sylvester McCoy that one time at the beginning of "Time and the Rani" where he had to pretend to be Colin Baker. [Wales Online; originally spotted by Ursus Veritas on the Observation Deck]