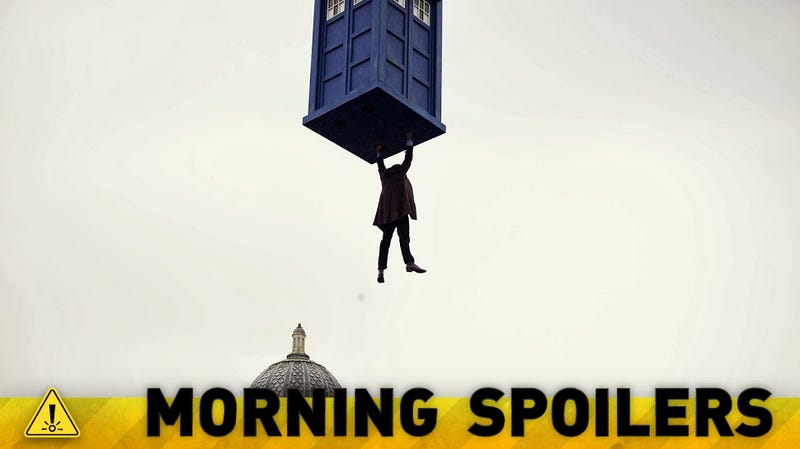 Today, find out which scenes in Thor: The Dark World were added later, and what exactly Joss Whedon did to the script. And Joanna Page explains the romance between the Tenth Doctor and Queen Elizabeth Plus, all the Saoirse Ronan casting news you could ever want. Spoilers now!
Top image: Doctor Who
Batman vs. Superman
First of all, until we hear otherwise, I'm shortening the Man of Steel sequel title to just Batman vs. Superman. Second of all, the rumors about other superheroes joining Batman and Superman in the movie are getting really interesting.
Latino Review says that the production is looking to cast an adult Dick Grayson. According to them, casting is looking for "a young John Hawkes type." They add that the actor is going to be doing martial arts, and will not be partnered with Batman when the film takes place. If he's fighting, but isn't Robin, that would likely make him Nightwing.
Also, more rumors are coalescing around the idea of Wonder Woman appearing. Schmoes Know is reporting that Olga Kurylenko (Quantum of Solace) has tested for the role. Granted, she's going to be filming the horror film Mara in May, so even if she had tested, and she was picked, she might not have time for it.
If all these rumors are true, we may be looking at Man of Steel 2: Batman vs. Superman (and Nightwing and Wonder Woman). [IGN]
---
Thor: The Dark World
For those of us in the United States, the movie comes out today. Director Alan Taylor described two of the scenes that were shot and added later during reshoots, and explained why they were added:
It's my experience with the Marvel process they save a portion of the budget for this and what we were basically doing. A lot of it was getting more Loki stuff, because we realized how successful he was in the movie, so we sort of "Loki-ed it up" a little bit.

Well there's a scene that we probably shouldn't identify too much, that's one of the funniest scenes in the movie where Loki's a shapeshifter. That was a very, very late addition. And there's a connective thing at the beginning that bridges from The Avengers story to sort of explain how Loki is in prison or why he is in prison. That was a very, very late addition. That was probably "more Loki is a good thing," but also we decided it was an expositional link that was needed for the audience. So those are two examples of Loki stuff.
He also explained what, exactly, Joss Whedon had to do with the script:
The thing he was brought in to help with was not a comedy scene, it was an emotional scene between Thor and Jane. I think he also did a pass with one of my favorite scenes, Thor and Loki talking in the Asgardian skiff at night when the brothers actually have time together to talk. That was one of my favorite scenes and I think he had a pass on that.
More at the link. [Slashfilm]
Natalie Portman says that some of the fantastical elements of the Thor sequel, especially those involving Thor and Jane Foster's relationship, are just dressing up the things that normal people experience all the time:
The humor helps. This script was very clever and witty, and that helps keep all the wild special effects in check. I also think that the characters are going through some very relatable things, even though they're traveling between realms. You don't look at it as, "Thor went off to fight this epic battle in a far off realm." You look at it as, "there was this great guy who suddenly didn't return your calls." That helps ground it. It's a long-distance relationship. You're getting to meet his parents and they don't quite approve. Things like that. You find the normality of that, and all of the costumes and sets and wild things going on aren't quite so wild anymore. It also helps that I'm the mortal among the gods and villains and monsters near me, so that's naturally more grounded. But a lot of the issues they have, they're still pretty relatable. Rivalries between brothers and things like that.
More at the link. [Mania]
---
Jurassic World
The latest casting rumor here is that Jason Schwartzman is up for an as-yet unknown lead role in the next Jurassic Park film. [ScreenCrave]
---
Star Wars
Saoirse Ronan is one of the few people rumored to have auditioned for Star Wars who actually confirmed it. And now she's saying she didn't get the part:
I don't have Star Wars. I don't have the role. I just shouldn't have said anything. I just auditioned for it, like everyone else did.
---
Fantastic Four
Ronan also said that anything you've heard about her and the Fantastic Four movie are flights of fancy:
I only heard that rumor. I'm not signed up for Fantastic Four.
---
How to Catch a Monster
Finally, the last bit from the Saoirse Ronan bag. Ronan's already filmed How to Catch a Monster, Ryan Gosling's first movie as a director. Nothing's been officially released about the plot, but it's been said to be a post-apocalyptic film largely set in an underwater city. Ronan was able to say just a bit about her character and the feel of the film:
I can tell you I have a pet rat and we used a rat who I fell in love with and I wish that I could have kept. He was amazing. We became very close.

It's kind of, in a way, like if Ryan was a film, it would be this film. It's a lot of his personality; this kind of off-centered humor to it, it's very dark and twisted, and really cool. There's a bit of neon in there. There was a neon flamingo in one scene, I remember. It's pretty cool.
---
Spring
Lou Taylor Pucci, star of Evil Dead, and Nadia Hilker have been cast as the leads in Spring, a science fiction/horror film. The movie follows "Spring," a young man in a downward spiral (presumably Pucci), who leaves Southern California for Italy. There, he has a romance with a woman carrying a dark secret (presumably Hilker). [Variety]
---
Tomorrowland
Brad Bird's live-action film based on a section of a theme park has had its release date changed. Instead of coming out on December 12th, 2014, it'll be coming out on May 22nd, 2015. [First Showing]
---
X-Men: Days of Future Past
Here's a new photo, giving us a closer look at Michael Fassbender's Magneto costume. Also note the wrecked building and people (government people? At least one of them's in uniform and a bunch have the lapel pin endemic to government officials) in the background. [MTV]
---
The Hobbit: The Desolation of Smaug
Go here for some character posters and below is the video for the song "I See Fire," by Ed Sheeran, which'll be the song heard over the end credits. [First Showing]