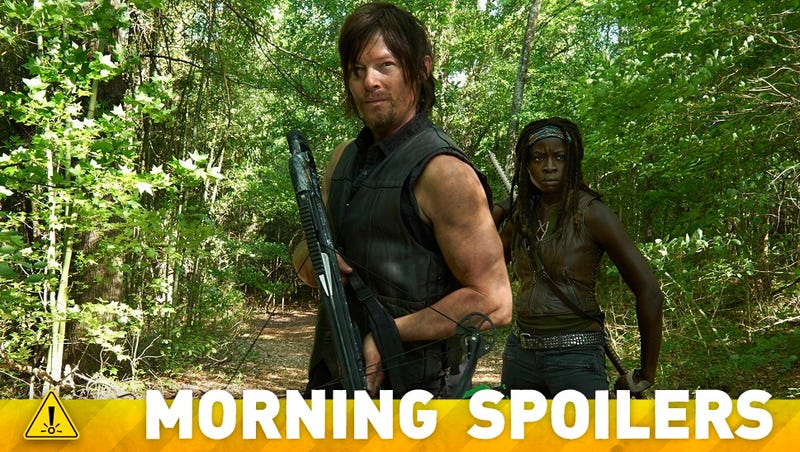 Has Star Wars Episode VII finally, actually cast someone? And does Star Trek have a director to replace J.J. Abrams? Plus more news puts a Deadpool movie within reach, and we know what's next for Once Upon a Time's Tinkerbell. Spoilers now!
Star Wars
Jedi News, the website of many other unsubstantiated reports, is saying that Serenity co-star Chiwetel Ejiofor will be in Episode VII in an undisclosed role. Now this rumor comes right after Ejiofor was reported to be sitting in J.J. Abrams office, so it could either be speculation based on that or what actually happened. [Comic Book Movie]
---
Star Trek 3
From Star Wars to Star Trek: Joe Cornish, whose directorial debut was Attack the Block, is apparently the top of Paramount's list to replace J.J. Abrams for the third rebooted Star Trek movie. [Deadline]
---
X-Men: Days of Future Past
The latest Empire magazine has a complete description of a scene from the film:
As extras with suitably big hair glide past, the camera tracks with Raven, on her way to catch a flight. Out of the blue passengers start talking to her, warning her, dissuading her from her intention. She ignores them, rounds a corner and standing in front of her is Charles Xavier.

Ten years have elapsed since the events of the previous movie, a decade in which Charles has disbanded the X-Men and let his school for gifted youngsters go to seed.

Charles - or an astral projection of Charles, hence the absence of a wheelchair - pleads with Raven not to leave him once more. At one point McAvoy throws in the line, "We have to show them we're not all like Erik." But Charles' remonstrations have no effect; Raven will not be swayed. The scene ends with a distraught Xavier promising, "Wherever you go, whatever you do, I will find you, Raven. If I have to, I will stop you."
---
Man of Steel 2: Batman vs. Superman
There are reports that filming is being set up in Yorkville, Illinois, which is the same location that was used as the Kent farm in Man of Steel. We already know Diane Lane will be reprising her role as Martha Kent, so a return to the Kent farm isn't totally out of the question. So, if the "secret" film project going on here is Man of Steel 2, is it going to be a flashback to Clark's childhood or a scene in the movie's present? Given that Cavill's still shooting another project, a flashback seems more likely. [Inquisitr]
---
Mad Max: Fury Road
Tom Hardy says that he's going to be filming some more scenes for the reboot to Mad Max:
(Mad Max)'s great. It's a big old piece, it's a behemoth of a piece. I'm off there next week to do some reshoots, well not reshoots actually, but doing more. We're building, building more Mad Maxes, even more spectacular and cool stuff.
Below, you can see video of the interview the quote was taken from. [Coming Soon]
---
Transformers 4: Age of Extinction
Go here for a complete gallery of set photos from China. [Transformers World]