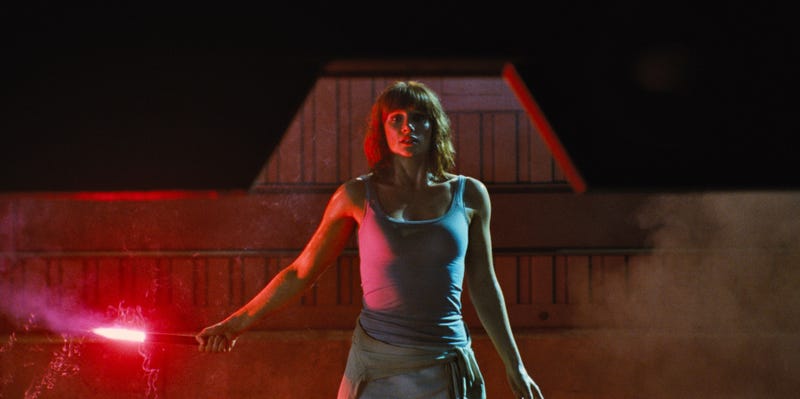 Jurassic World, out tomorrow, is getting praise for its awesome dinosaur action. But it's also getting a lot of criticism for its characters, especially the way it handles Bryce Dallas Howard. We talked to director Colin Trevorrow about how to make a monster movie in the Age of Sharktopus.

Spoilers ahead...
How do you deal with the fact that we're living in the age of Sharktopus? There are so many CG monster movies out there, and we're so used to all the tropes?
I feel like our movie is aware of that, hopefully not hyper-aware of it, but it acknowledges it. And yet I also think that monster movies are fun, and we enjoy these things for a reason. So I wanted to find a way to balance that, to recognize that it's inherent in this story we're telling, that people are going to this theme park because they want to see that.

You can kind of see that moment in the film, when the crowd is watching the Mososaurus finish off the shark, and it's like they're at an MMA fight. They're all cheering, because they want that carnage. There's something really interesting about how human beings just want to see animals tear each other apart, maybe because we can't do it. I thought there was at least something in there where we could be the thing that we're talking about, and hopefully get away with it.
Monster movies are constructed around set pieces where you have people at a lake and then a monster comes out and eats them. I feel like this movie does a lot to shake that up. Did you think about how to break up the structure? You reveal the Indominus Rex really early in the movie, instead of making us wait for it.
Somewhat early. Definitely earlier than we [showed the main dinosaurs] in the previous ones. I knew they were going to show it in all the trailers, no matter what they promised. Steven [Spielberg] had the luxury of making a movie where there was one trailer, where you didn't see any dinosaurs. So the level of joy and surprise is very different. But we did try to certainly show its consequences.
We wanted these dinosaurs to feel like real animals. That's a theme that we're very interested in, and certainly pushing forward with this, is to make it not a monster movie. These are living, breathing animals that did once exist on this planet and by resurrecting them, we have made these things un-extinct.

And so I felt like presenting these dinosaurs as something that will just eat you all the time, every time, wasn't the way to go. I got to the point where, even at the end of the movie, a dinosaur chooses not to engage in battle, with an animal that has been its nemesis every time we've seen them together. They always fight. I don't think it gave them a certain amount of humanity, but I think it gives them an amount of nuance, and hopefully as characters allows us to respect them a little more. And sort of drive our respect for animals, which would be a goal for me.
I did notice with the Indominus, you do the classic monster movie thing of showing us glimpses of it, and then slowly revealing it.
That's because it's so early in the movie. That would be too early. We wanted to do it just enough so, you know, there's something inherently engaging about not being able to see the monster, but at a certain point, we knew that we were going to have to unleash it, and ideally because we're treating the raptors and the T-Rex and these other animals as characters, it allows us to build for a little while.

In a movie that's sort of a single monster movie, like Jaws, once you see the animal, it identifies the threat and you're able to start working on ways to take down the threat. I think showing its powers, like any hero, any villain, spending the first half of the movie creating a mythology for it. It's not Godzilla, where we all know the mythology. We're introducing a new villain that is a synthetic, in the same way that Darth Vader, and Captain Hook, and Frankenstein all had, like, synthetic elements to them. It's sort of a "classical villain" trope if anything. Not that I want to engage in tropes, but we know what these things are.
In the same way that in a superhero movie, you spend the first half building up the powers of the hero, he discovers what they are, and then the second half he's executing those powers. We sort of did they same thing with the villain. By the time you get to the second half of the movie, you know what the Indominus can do. You know what it is. You've seen it, and now we're moving forward.
Actually, did you see Gareth Edwards' Godzilla? What did you think about that in terms of how it handles this iconic monster?
I thought he handled it really well. I feel like the thing looked beautiful, when you finally saw it. It was such a great effect. I think Godzilla is such an inherently challenging property, and I was just impressed that they were able [to pull it off]. I don't know if I would have attempted to do it myself, cause I don't know how the human characters and Godzilla can have a relationship in any way. It makes it really difficult, and that was something that was so important to me. You can see how I work hard to make sure that [a relationship] exists here.
And here the key relationship in a lot of ways is the relationship between Chris Pratt and the raptors, this whole idea of training them, and him being an animal trainer. Where did that develop from?
There was an idea that Steven [Spielberg] had, of a guy who could sort of command raptors in battle and have that human-animal communication. So Derek and I, we tried to dial it back a little bit, to the point where maybe that relationship is just being tested and figured out.
Because that's something that exists on this planet right now — you have people in Africa who are out in fields with lions, rolling around with tigers and hugging these vicious predators that would kill anybody else and eat them. And so we felt like that's at least a relationship that people can understand and connect to, and I thought it's pretty cool when you replace lions and tigers with dinosaurs. And it allowed us to have a relationship that could be tested, because they are predators.
And I thought even though he imprinted on them very young in their lives, it would reach a point where they would have to choose between this human who has cared for them and obviously loves them and something else that is 'one of them,' to a certain extent. To have that build up, to be the climax of our movie, to build to that, I feel like that's an emotional arc that we could rest this whole thing on.
And the theme of nature. In the film, people point out that none of these things are actually natural, in that they're engineered. And they don't have any instinct because they've been raised in captivity and they didn't have any parents to teach them. Is the theme of nature vs. nurture something you guys talked about?
Absolutely. There's a story about a tiger that had been raised in captivity that got loose and just went on a killing spree, like a serial killer. And it killed everything in its path, every living thing that it came upon. And so we based [the Indominus story] on that, and there are examples all over of animals raised in captivity not necessarily having the same psyche, the same mindset as animals that have grown up in a more traditional environment.
We haven't seen that in other Jurassic Park movies before and I found that the balance of this movie is me trying to make sure that people love these movies and have something that they can feel comfortable with — but also be bold and push it forward and address some new ideas. And that, to me, felt like one of the most salient ideas that we could grab onto.
And a lot of people remarked on the fact that Bryce Dallas Howard is running in heels. Why doesn't she change into flats? She could put on boots!