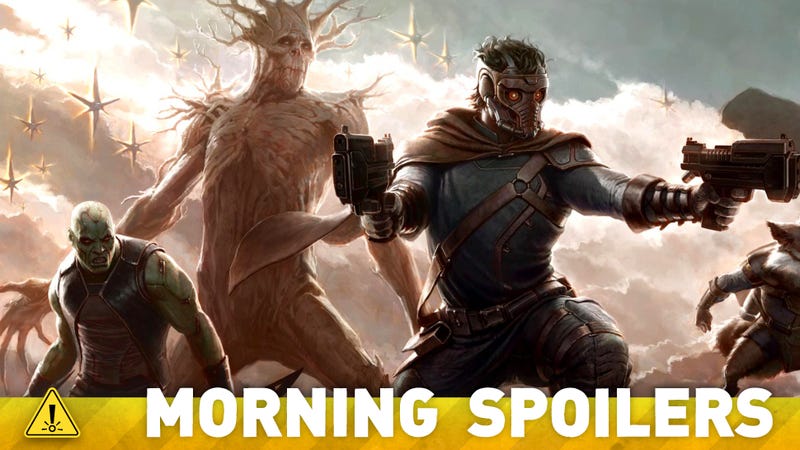 And he's not the only awesome actor who might be joining Marvel's space opera. Check out set photos for The Amazing Spider-Man 2 and Dawn of the Planet of the Apes. Gwendoline Christie discusses Brienne's journey on Game of Thrones. Stand by for spoilers!
Top image from Guardians of the Galaxy.
Guardians of the Galaxy
James Gunn's Marvel space opera might be closing in on some more key stars, and one of them could be the man behind Dewey Cox, Dr. Steve Brule, Chest Rockwell, and Wreck-It Ralph: the one, the only John C. Reilly. Acting's most lovable (and talented) goofball is reportedly in line to play Rhomann Dey, with his role described as "the Agent Coulson of the 'Guardians' movies... the human agent who serves as a go-between, keeping the Guardians in line and reporting to SHIELD about their activities." That sounds like it could be a fairly significant departure from the character's comic book history as the Nova Corps leader from the planet Xandar, but if Marvel is keeping a fairly alien name like Rhomann Dey at all, then there's probably a bit more going on here than just a human agent, even if he is touted as "the primary face of normal humanity for the 'Guardians' films." Anyway, Reilly has reportedly been offered the role, and he better take it, because — and no disrespect to Woody Harrelson here — I'm still a bit bummed he didn't end up playing Haymitch Abernathy in the Hunger Games movies, as was briefly rumored.
This is just detail of a much larger report on the state of the story from Hitfix, which is well worth reading here. The story suggests that Michael Rooker's character Yandu won't necessarily be a founding Guardian at all, but rather a space pirate and at least one of the movie's main villains. We'll send you over there for the rest of the story-related news, but there's another casting rumor to highlight. Rhomann Dey would reportedly be joined by "a peer, someone who is their liaison for the Guardians." The contenders for this role include Hugh Laurie, Alan Rickman, and Ken Watanabe, so basically as long as you're an awesome actor over 50 who oozes a certain badass gravitas, then Marvel Studios would like to talk to you. Check out the link for plenty more. [Hitfix]
---
The Amazing Spider-Man 2
We already showed you photos of Paul Giamatti's somewhat unusual-looking Rhino costume. But also in the same batch of images were some pictures of Spidey with a little kid wearing a Spider-Man costume. Check out some more here, and even more at the link. Photos by Getty Images. [Superhero Hype via Coming Soon]