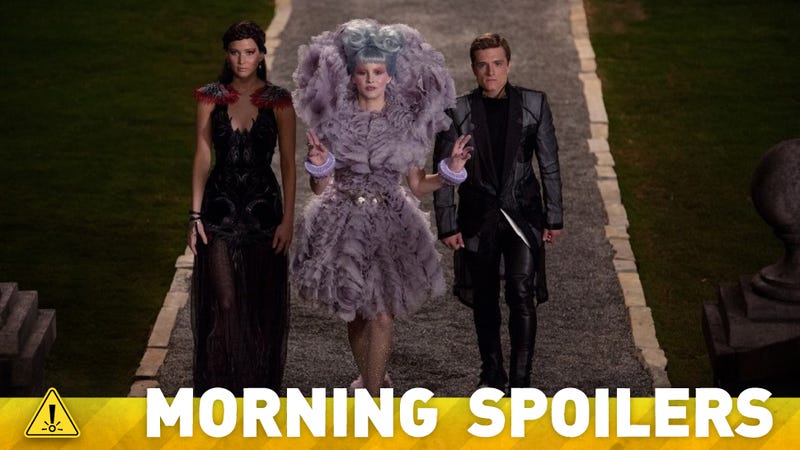 There are a ton of Doctor Who photos, and the Jessica Jones TV series has a showrunner. Independence Day 2 gets a new release date, and next year will see two Hercules films. New versions of Ghost and Tales from the Darkside are coming to TV. Plus, a toy line gives a glimpse of Captain America 2's costumes. Spoilers ahead...
Top image: The Hunger Games: Catching Fire
Star Wars
There's been speculation making the rounds that Jennifer Lawrence would be playing a young Han Solo. There have even been essays explaining why this might be a good idea. Talking to Slashfilm, Lawrence laughed off the idea:
I can't play a young Han Solo. [Laughs] That's awful... [The actor who plays young Han will] probably be male, but I have always wanted to play a man.
[Slashfilm via Yahoo News]
---
X-Men: Days of Future Past
Speaking of a role Lawrence does have, she did detail where we'd find her character, Mystique, in this film:
We find Raven, she's split off from Eric and Charles and she's kind of her own agent. She has one mission of trying to assassinate somebody and it will be her first kill basically, and because we've seen her in the future and what she becomes and this is kind of a turning point for her.
---
The Hunger Games: Catching Fire
Rounding up the Jennifer Lawrence-related news is this new "Cornucopia" TV spot [via Broadway World]
---
Captain America: The Winter Soldier
Some new details about Captain America: The Winter Soldier toys released by Diamond Select Toys have shed light on some new costumes. First is the list of two-inch tall Minimate pairs that'll be available:
Stealth Uniform Captain America with Crossbones
Final Battle Captain America with Winter Soldier
Black Widow with Falcon
Agent Sitwell with Batroc
First, we already know that Cap has two uniforms in this movie. When we broke down the trailer, it was suggested in the comments that he takes his old World War II uniform from a museum, so maybe that's the "Final Battle" outfit, and the "Stealth" uniform is the new armored one we've seen. Plus, there's the question of what he needs a "stealth" uniform for anyway. And then there's always the possibility that these reference one or more outfits we haven't seen yet.