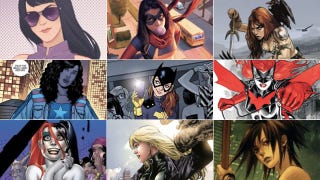 When Marvel announced that its next round of movies would include a Captain Marvel movie, we were thrilled. Yes, a major Marvel movie featuring a popular and wonderful female superhero. But amidst that celebration, let's not forget there are still tons of worthy female superheroes who would make excellent movie stars.
We're at a point in our popular culture in which superheroes are particular powerful, even off the page and the screen. We're fresh off Halloween, when the streets were filled with tiny Iron Men and Captain Americas. In my town, Batman t-shirts and X-Men hats are common wardrobe choices. And, of course, at the box office, superhero movies reign supreme.
One thing that the most recent Marvel movie announcement made clear, however, is that female superheroes are still playing catch-up. When you look at the chart of upcoming superhero movies, things skew decidedly male. That's not to say that the comics movie industry isn't making some strides in the right direction. In addition to Captain Marvel, we've got the much-longed for Wonder Woman movie on the horizon. Peggy Carter and Supergirl are coming to television and Jessica Jones is on her way to Netflix. Sony has announced a female-led Spider-Man spinoff. And the Suicide Squad movie may have cast its Harley Quinn.