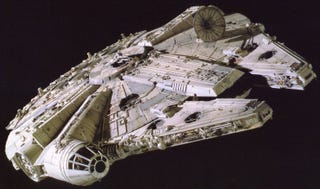 Hold onto your Stormtrooper helmets, folks. A major pile of Star Wars: Episode VII concept art seems to have dropped, and they match many of the movie rumors we've been hearing about. Major spoilers ahead, so check them out at your own risk!
First. here's some images we've heard about very specifically — the mysterious, presumably evil cyborg and "Kira," the young character played by Daisy Ridley who may or may not be Han and Leia's kid.
In another of the new images, this cyborg character is embracing Kira from behind, and she has a sad, resigned look on her face, indicating she may be joining the villain in some way, for some reason. You can hear some more rumored details here if you so inclined, but obviously more spoilers ahoy.