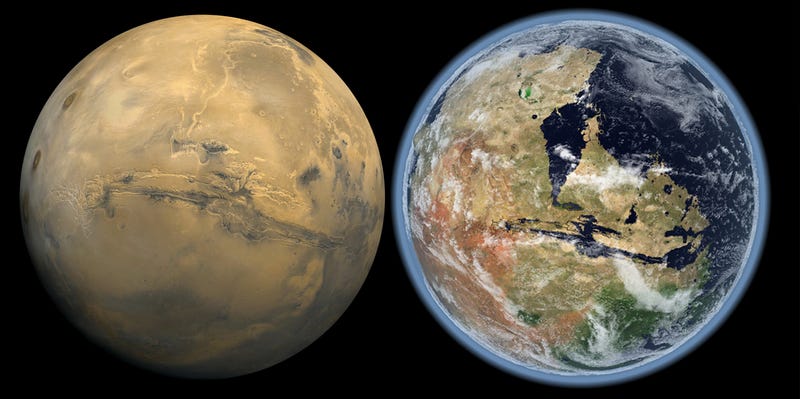 Nobody is sure how life emerged from the primordial chemistry of Earth. But now we have more evidence that Earthlike life could have evolved on Mars.
Illustration of Mars today and Mars several billion years ago, by Kevin Gill
It all has to do with phosphates, minerals that are crucial for building DNA, cell membranes, and many other parts of our bodies. On the early Earth, billions of years ago, these minerals were locked up in rocks. Over millennia, water ate away at those rocks, eventually dissolving enough free-floating phosphates into the oceans that they became the building blocks of life.
But Mars has a different set of phosphates in its rocks. These phosphates, such as merrillite, don't exist on Earth — except in meteorites that have come from Mars. Martian phosphates dissolve at about 45 times the rate of Earthly ones. In other words, there would have been a lot more free-floating phosphates in the oceans of early Mars.
In a paper published today in Nature, a group of geologists and chemists from the University of Las Vegas, Nevada, explain that phosphates would have been much more available for proto-life on Mars than they were on Earth. They discovered this by recreating the conditions that would have existed on Mars, where groundwater was eating away at merrillite and other fast-dissolving phosphates. Below is a chunk of the extraterrestrial mineral merrillite that they cooked up in the lab.
They concluded that these kinds of chemical reactions could have accelerated abiogenesis, or the process of life emerging from inanimate chemicals:
Our experimental findings predict phosphate release rates during water–rock interactions on Mars that are as much as 45 times higher than on Earth and phosphate concentrations of early wet martian environments more than twice those of Earth. We suggest that available phosphate may have mitigated one of the hurdles to abiogenesis on Mars.
In some ways, it would have actually been easier for life to emerge on Mars than it would have been on Earth. This raises the question of whether life did, in fact, evolve on Mars and come over to Earth in meteorites — the same way that merrillite arrived.
Scientists who subscribe to the panspermia theory would say this is a good possibility. This theory suggests that life came to Earth from another world. Many scientists would say it's plausible that the building blocks of life could have arrived on Earth via meteorites from Mars.