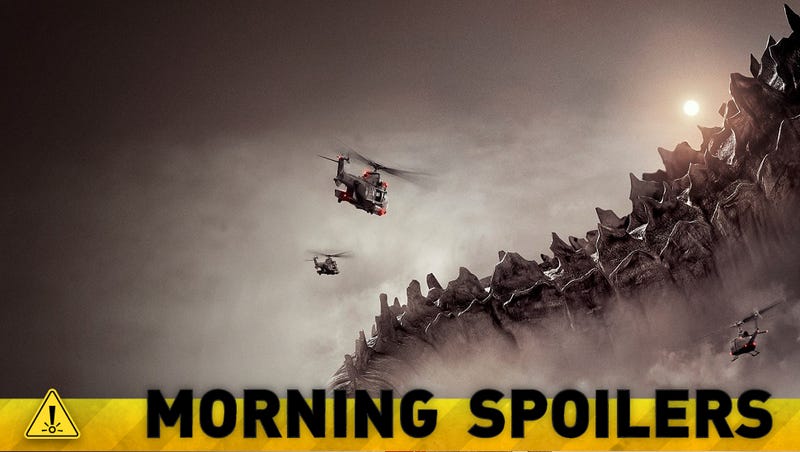 An Avengers: Age of Ultron villain will make it out of that movie and into other Marvel films. What do Game of Thrones episode titles reveal? Gareth Edwards breaks down the Godzilla trailer. Learn how Fantastic Four differs from the earlier versions. And will Chloe Sevigny be returning to American Horror Story? Spoilers now!
Top image: Godzilla
The Matrix
Giant grain of salt, but Latino Review has a report claiming that Warner Brothers has asked for another Matrix trilogy. The Wachowskis are reportedly working on stories, with early outlines already given to the studio. It sounds as though the idea is for the new trilogy to explore the origin of the Matrix, but that could all change, or not even happen. If this is even true, it's early days yet. [Slashfilm]
---
Avengers: Age of Ultron
Thomas Kretschmann confirmed that his appearance as Baron von Strucker in Age of Ultron won't be the last time we see him, saying:
I have a multi-picture deal which means I will not only appear in the 2nd part, but they're planning with me for a longer period of time. But I don't know details yet, they're keeping their cards close to their chest — top secret!
---
Godzilla
Director Gareth Edwards did a Q&A following a screening of footage, including a scene with a "domino effect of planes being destroyed in an airport." During the Q&A, Edwards explained why he believes Godzilla is so enduring:
I think the reason why it's lasted [Godzilla] has lasted so long is because you have an infinite canvas. It not like other franchises, where you have a particular story you have to tell over and over again. With Godzilla you can kinda do anything you want, and that was paralysing to begin. We brainstormed it for ages and circles around a million different ideas. It probably took us a good year and a half to land on the story which felt right for everybody. At the heart of our movie, which is also there in the original, is the idea of man versus nature. If you mess with it, you're going to lose.
He also talked about the challenges inherent in making such a huge film:
If you put a list together of the pros and cons of making both a low-budget and big-budget movie, just swap them over. Everything that is easy to do when there are just three of you [on the crew] is really hard when there are 400 people on the production.

Everything that's really hard to do when you only have ten pounds is really easy when you're got millions to spend. The real difficulty and hardest aspect in any filmmaking process is to try and tell a gripping story that you really care about the outcome of. It doesn't matter if you have ten pence or 200 million dollars, it's just as difficult. We focused our time on getting it right.
The director also broke down the trailer for Empire Online, saying that the origami is foreshadowing something, the Statue of Liberty isn't in New York, and that the tentacle isn't holding a bomb. He also said that the first idea pitched was that the nuclear tests of the '50s weren't tests at all, but the government's attempt to destroy something. And that's the idea they ran with.
He also said this about the bones:
[They're] kind of a little treasure map for fans. Let them figure out what this all means. In our film, it's not that these things were magically created for some random reason. We tried to make it as realistic as possible. If there was a giant creature, how did it get here? Has it always been here, and if so, were there others? That's another question we address in the movie.
Watch the video commentary at the link. [Empire Online via Cosmic Book News]
Go here for more photos from Godzilla. [Coming Soon]