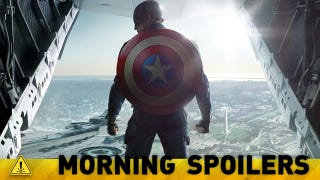 A Captain America: Winter Soldier writer explains why Cap has no character arc of his own. The Walking Dead has a new poster. And new Dracula photos show the show getting its corpse on. Plus, new photos from Arrow and Tomorrow People. Spoilers now!
Captain America: The Winter Soldier
Co-writer Christopher Markus explained that Captain America doesn't have an arc in which he changes, but that his stories are about how he affects the world around him:
What helps us get past the pious Boy Scout that he could turn into is that he doesn't really want to be this guy. He would prefer to be Steve Rogers just walking down the street, helping people sometimes. … He's kind of the still centre and things happen around him and are influenced by him. It's interesting in this movie, for instance, to watch his relationship with Black Widow, who of course has a very different outlook.

It can make it difficult with executives who often want arcs. It's very difficult not to sound lazy when you go, 'Well, he doesn't really have an arc.'
In the same Empire story, co-director Anthony Russo expanded on that idea, explaining that what gives the sequel its edge isn't Steve, but the story's subject matter:
What made '70s thrillers interesting is that it was a very complicated time. We were peeling back the curtain with Watergate and realizing how corrupt the system was. Now, again with the proliferation of social media, you can blow the whistle on the NSA and it can be round the world in 30 seconds. And we have the morality of drones. Is it right to preemptively use them to kill suspected terrorists prior to any sort of trial? So the times we're living in are even more complex.
---
Marvel
The next Marvel One-Shot will be coming, of course, on the Thor: The Dark World Blu-Ray, and it'll be called "All Hail the King." All that we know is that it's 16 minutes and 14 seconds long. However, if the name's any indication (and not some sort of redirect/bluff) a good guess is that it involves the plot point revealed at the end of The Dark World, which showed Loki taking the throne of Asgard while disguised as Odin. [Slashfilm]
---
The Walking Dead
Here's a new poster for the show's 2014 return. [Entertainment Weekly]
---
Arrow
Below's the synopsis for January 15th's "Blast Radius," and go here for more photos from that episode. Seeing Oliver shake hands with Blood and try to save him is pretty hilarious, given what we know. It's shades of last year's saving of Malcolm Merlyn.