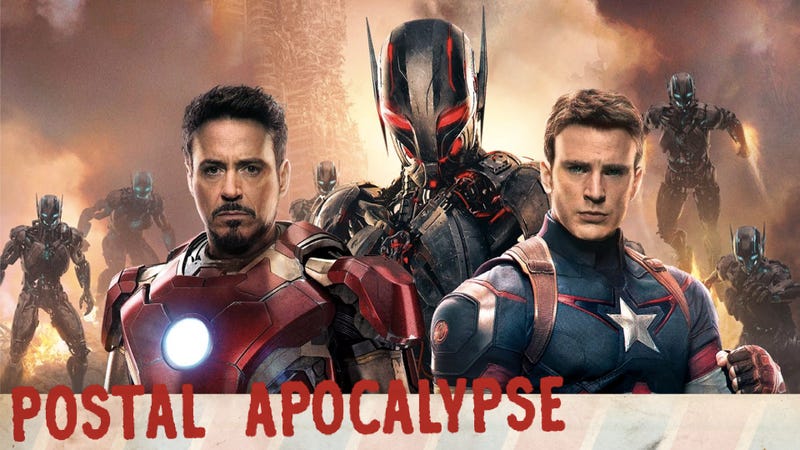 Before I start answering this week's letters, I just wanted to let you know that I, as a fake mailman living in the post-apocalyptic future, know everything that's going to be announced and shown at this year's San Diego Comic-Con already. And I'm not telling. Nyeh.
---
New Avengers
John A.:

With the very public release of the info on the new Thor as a lady, and Captain America as Falcon, (I mean comic news on Colbert now?) and with the knowledge that Marvel is struggling with deals with it's actors like Chris Evans, is this change in the comic sort of Marvel getting ahead of the curve so that if/when those actors decide to leave - the public won't treat it as a direct re-cast and sour to the franchise, but have this seed of them being changeable already in their mind, and for comic-book fans- tied to the lore.
I received a LOT of letters about this subject, and I had prepared a dismissive denial for them. But John A. raises a great point I hadn't thought of before: What if these extremely public character-change announcements weren't about "Hey, look how super-diverse we are!" and more about getting mass audiences used to the idea of different characters playing these roles?
Whether Falcon becomes a new Cap in the movies or a mysterious woman takes the (sigh) title of Thor, as you said, putting this notion out there for all non-comics fans not used to this… flexibility could be a canny move. And maybe it is, but I don't think so.
If I had to guess, and I kind of do, I think Marvel will recast the roles of Tony Stark, Steve Rogers, Thor, etc., when the relevant actors opt not to renew their contracts. Here's why: Say Don Cheadle's James Rhodes becomes the new Iron Man for another trilogy. What happens when Cheadle is done with the role? Will they have to introduce another new character in Cheadle's movies for him to pass the armor to? That's really unwieldy, and then you end up with a never-ending string of new, random characters — far better to just cast a new guy, say he's Tony Stark, have all the other characters recognize him as such, and move on. I always equate it to a new artist drawing the same character — he looks different, he may even act different, but he's still the same character — and I think mass audiences can handle that. (And don't even get me started on Thor; there's no way Marvel Studios could possibly pull the current comics Thor switcheroo without making mass audiences' minds explode.)
If Marvel doesn't allow new actors to play existing roles, then they pretty much have to reboot their universe, and I don't think they will do that either (or rather, I don't think they should, and I think they're smart enough to realize this). Mass audiences have invested a lot in the Marvel Cinematic Universe; to reboot it would potentially lose more viewers than it would gain. The Marvel Cinematic Universe isn't nearly crowded enough to be inaccessible to new viewers yet, and the fact that these movies take place in one continuity and build on each other is really what sets Marvel's movies apart. I think — and hope — they'll keep it going for years so than when they do inevitably decide to reboot all these franchises,maybe in 2020-something, it actually feels a needed rejuvenation instead of a desperate attempt to make people pay attention (cough Amazing Spider-Man cough).
---
Bean Counter
Steph S.:

Sean Bean confirmed R+L=J!!!!! WHY AREN'T MORE PEOPLE FREAKING OUT ABOUT THIS?!!!!
Because he did nothing of the sort — or at least nothing we can prove. For those who don't know, "R+L=J" is the prominent Game of Thrones theory that Jon Snow isn't in fact the bastard son of Ned Stark, but instead the son of Rhaegar Targaryen and Eddard's sister Lyanna. You can get more details here.