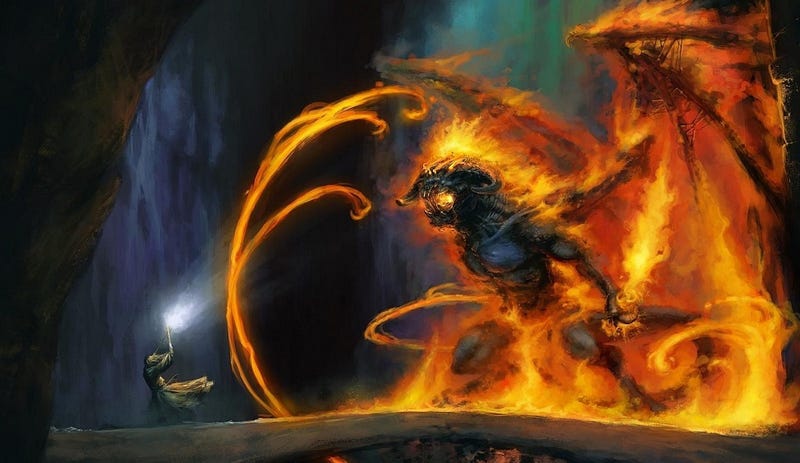 You'll see lots of rants on the internet claiming the word "epic" is overused. It's become a blanket synonym for "fun," and people say "I had an epic bath" with zero irony. But maybe this is just a symptom of a larger problem. Maybe the word "epic" in general has lost all meaning, including when we talk about fantasy.
Top image: Gandalf vs. Balrog, artist unknown.
It's easy to find those rants about "epic" being an overused term for "pretty decent" — some of them happened after Cosmopolitan had a cover promising "Epic Sex," which somehow didn't involve having sex while riding on dragons or fighting off Orcs with a crossbow mid-coitus:
And sure, "epic" is overused by people on the internet and in publishing, when they need another word for "awesome" or "ridiculously fun." But maybe it's just overused in general? Maybe too many stories have been described as "epics," and the notion of epic storytelling (or "epic fantasy") has lost some of its edge?
The history of the word epic
The word "epic" comes from the Greek "epikos," meaning a poem or story, and it only became an adjective in the late 16th century. At first, this term was used to describe long poems with heroic narratives, in which long periods of time passed and somewhat larger-than-life heroes did great deeds. The earliest example might be The Epic of Gilgamesh, but also Homer's Iliad and Odyssey are frequently mentioned.
These epic poems, along with later ones by Virgil and others, are frequently about establishing a sense of national identity as much as celebrating heroism.
Over time, the definition has gotten a lot vaguer. As John P. McWilliams observes in his book The American Epic: Transforming a Genre, 1770-1860, "Although so loaded a term demands definition, securing a workable definition that is not idiosyncratic proves exasperating." Adds McWilliams, "one may well conclude that the word 'epic' is only a substanceless advertisement for size and length, as it has long since become for [book] jacket blurbs and film promotion."
He concludes: "Although oral heroic poetry can and has been studied as a distinct separate genre, no precise meaning of 'epic' can be found that will suit even those few texts that centuries of readers have agreed to call epics." He more or less decides that "epic" means "heroic narrative," and that everything else about the term changes over time to suit different people's needs.
And in the Columbia History of American Poetry, McWilliams concludes that epics generally "celebrate heroism" and "convey the values and customs of a culture."
But it's not enough to have a heroic storyline, insists Derek Elley in The Epic Film: Myth and History: "Heroes alone do not make an epic unless the other ingredients are also present: a literary garb which dresses the action in noble style; the all-important mythic element which raises the work above mere reportage by the introduction of the irrational, the inexplicable or the magical; and the feeling of an overall unity and purpose to the work, of an embodiment of unchangeable ideals, which is frequently national."
Elley probably does the best job of anyone of pinning down what makes something "epic" rather than just "heroic" — although I'd add that there has to be the passage of time and a certain largeness to the deeds and the characters. But McWilliams is also right that the term "epic" has become a "substanceless advertisement," and is almost meaningless at this point.
So what is an epic nowadays?
In the genre world, we use the word "epic" in two different contexts — as a descriptor for the subgenre "epic fantasy," and to describe any story that's kind of long and has big fights in it.
Definitions of "epic fantasy" tend to vary — usually, it takes place in a world that's not present-day Earth, there are heroes and monsters, and people go on a long journey or quest. There tends to be a map inside the front cover. The term "epic fantasy," though, is a broad marketing term that is more or less interchangeable with "heroic fantasy," "quest fantasy" or "high fantasy."