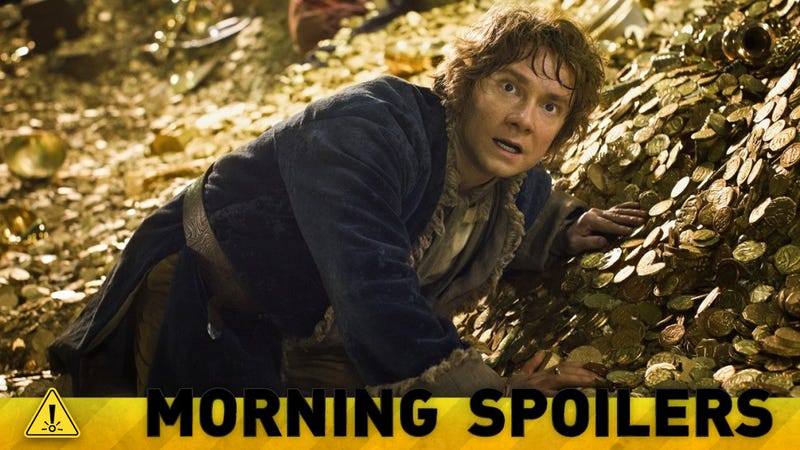 Director Gavin Hood explains why he sent the stars of Ender's Game to Space Camp. A ton of Christopher Eccleston material was left on Thor 2's cutting room floor. And Sigourney Weaver takes on another sci-fi role in Niell Blomkamp's Chappie. Plus, new X-Men photos featuring Peter Dinklage's awesome 70s 'stache. Spoilers now!
Star Wars
Let's have some more anonymously-sourced rumors for Star Wars. Jedi News has a source that says that Harrison Ford's going to be signing on for a multi-film deal (which will include Episode VII) since he's happy with the proposed development of his character. [The Force.net]
Building on that, it seems like the other thing Ford wanted before committing to Star Wars was a reciprocal commitment to making Indiana Jones 5. The same rumor says he didn't get a full promise to make IJ5, but he did get them to promise an outline by the end of 2014 and, if all parties like it, that Indiana Jones 5 would be released before the end of 2016. This actually gels pretty well with Ford's previous statements that he's fully on board playing Indy again, plus his apparent reluctance to commit to Star Wars. [Slashfilm]
---
Ender's Game
In an interview, director Gavin Hood described all the work and training the child actors did to prepare for their roles:
The producers gave us the time to send the kids both to physical training –we sent them to a space camp where they worked with astronauts and they learned about zero gravity and they worked in all the machines that simulate zero gravity- and then we also had them with military training instructors who taught them to march and salute, and do millions of pushups. We literally put them in their dormitories and their parents had to take their cell phones and all go away and some of the moms said "my son's twelve!" It's okay. He'll be fine.

They would do that kind of thing in the morning, and work with stunt coordinators on aerial work on wires, and they worked with Cirque du Soleil people, I mean it was a fantastic time. But they worked really hard: got up early in the morning, we literally had school. And in addition to all that, they still had normal school. They had an intense program. They would rehearse with me in the afternoons, and I would pick certain scenes and certain actors, and we'd rehearse without the adults. The point is, by the time they got to set, and stepped in front of Harrison Ford, and Sir Ben Kingsley, and Viola Davis [there was] a wonderful, perfectly useful bit of intimidation feeling that was useful to exploit, because that's the dynamic of Ender and Colonel Graff. The way Asa Butterfield felt facing off against Harrison Ford on day one, was just wonderful; it's exactly what Ender is supposed to feel. But the point is that the preparation, and the rehearsal, and the training meant that when we were working with those senior actors, the younger actors were fully prepared, knew their lines, had discussed, and asked as many questions as they wanted about the themes, the purpose of the scene, the subtext that I was looking for, and they could really focus on the interaction.

They could take the focus off themselves, and focus on what the senior actors were throwing at them, which is always what I try to do with young actors. If you're nervous, stop worrying about what you're doing, watch that other actor, because acting is about reacting: you can't react, unless you're open to what's coming at you. Having them well prepped meant that they could focus, because there's nothing worse than an actor that's not prepared, who's floundering for a line, they're not in the scene, they're looking for their lines. I don't want that, I'm quite strict about that: know your lines perfectly, so that we can focus on the emotion. And they deliver.
Tons more at the link. [We Got This Covered]
---
Thor: The Dark World
In what may explain the general consensus among early reviewers that Malekith's a thin villain, Christopher Eccleston revealed that while his goal was to create a more nuanced villain in Malekith, many scenes are missing from the final film:
That's certainly what myself and Alan [Taylor] were after. We worked closely, and we said we didn't just want a cackling fiend. And it's really for the audience to decide whether we achieved that. I certainly hope so. It's important to understand that the script that the audience ends up seeing is not necessarily the script that you shoot. There is more footage, and for whatever reason scenes were lost, and the emphasis was changed.
---
X-Men: Days of Future Past
Bryan Singer answered fan questions on Twitter, saying that this movie is going to be all about the cast and their characters, as well as letting us know that's he's a little ahead of schedule:
#AskSinger #XMen was it challenging working with such a big varying cast?
Singer: .@lawrencer_ I was real comfortable with the original cast and knew the #FirstClass cast as a writer/producer but not yet as a director. With the exception of @NicholasHoult of course — but they were all fantastic and made the experience fun.

How does this movie make itself new and fresh, while still keeping the traditional feeling we all loved from the previous movies?#AskSinger
Singer: .@pluckthestrings It's all in the cast. They are great actors who know their characters - who know how to bring them to life.

Mystique has been a fun character to see in the movies. What can we expect to see from her in DOFP #ASKSINGER #XMEN
Singer: .@irturner She's a much more hardened kick-ass character than she was in #FirstClass.

"What scene are you editing right now?" —From Kevin Lieu on Facebook
Singer: I'm tinkering with a piece in the opening that helps set up the story - but I'm in a good place with the cut. A bit ahead of schedule

"Mr. Singer, how would you characterize the tone and style of 'Days of Future Past'?" —from Ben Ferguson on FB
Singer: Although there is a great deal of humor, the overall tone is a bit darker than previous films, particularly because of the stakes.

How many new x men characters are in the new film #XMen #AskSinger!
Singer: .@Jason_Payton82 A lot — Blink, Bishop, Sunspot, Warpath, Ink, Quicksilver, etc.
More at the link. [Coming Soon]
Entertainment Weekly has a ton of shots of characters in their 1970s wear, plus Magneto and Professor X in their future garb. Go here for the complete gallery. [Film School Rejects]