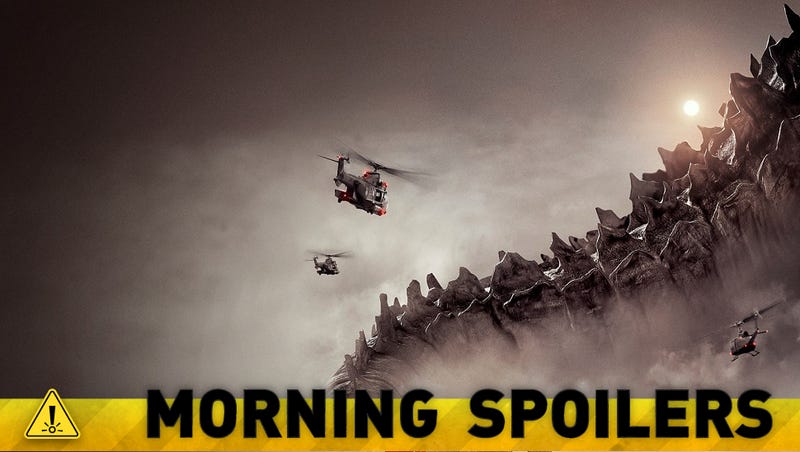 A toy box reveals the backstory for Godzilla. Karen Gillan talks her big fight with Zoe Saldana in Guardians of the Galaxy. And just what is the history between Sarah and the new character Cal on Orphan Black? Plus a major Hulk character comes to Agents of SHIELD. Spoilers now!
Godzilla
A description of the latest movie's take on Godzilla's origins has appeared on a box for a tie-in toy. It says:
Possibly the last of an ancient species of giant amphibious creatures that evolved at a time when the surface of the Earth was over ten times more radioactive that it is today. Godzilla can convert his radiation stores into a violent, focused exhalation of atomic ray. Rarely seen, but spoken of in ancient Pacific Island myths, "Gojira" was last spotted in 1954, when the U.S. Navy encountered and attempted to kill him with an atomic blast in the Pacific Ocean. Since then, the giant creature has been living in the deep ocean – until a threat to his survival from an ancient foe forces him to reappear.
---
Guardians of the Galaxy
Speaking to MTV, Karen Gillan spoke about Nebula and Gamora's fight sequence, saying that it's a pivotal moment for her character:
This is the integral one for my character, because it's not just a physical battle. Their relationship goes very deep, and there's a huge history between them. So there's a lot more to it than just the physical.
See the interview below. [MTV via Coming Soon]
---
Doctor Strange
Even though Kevin Feige has denied that there's any short list for directors, The Hollywood Reporter's Borys Kit has added Scott Derrickson (Sinister) to the list. He also says that only two of the four original names are still on the list: Mark Andrews (Brave) and Jonathan Levine (Warm Bodies). [Borys Kit on Twitter via Coming Soon]