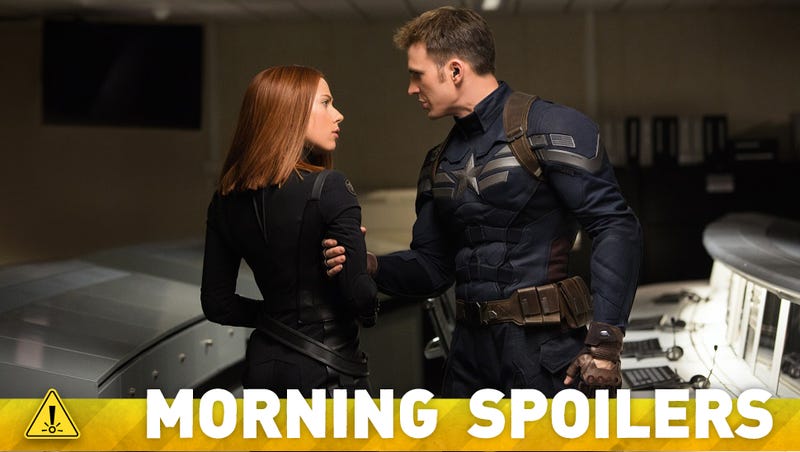 Check out striking new Game of Thrones posters, focusing on the Lannisters. Did Jennifer Morrison finally reveal Chris Gorham's mystery Once Upon a Time character? Plus casting news from Teen Wolf, The Flash, iZombie, and The Visitors. Spoilers now!
Captain America: The Winter Soldier
At an event in Hollywood, Marvel showed the first ten minutes of the movie. Here's ComingSoon's description of the opening scenes:
The film opens with Steve Rogers jogging around Washington, D.C., easily outpacing other joggers, including Anthony Mackie's Sam Wilson. When Rogers realizes that Wilson is also in the armed forces, the pair strike up a conversation and we, for just a moment, get a very funny glimpse of a list of pop culture items that Rogers is keeping so that he can catch up on his seven decade absence (with entries like "Star Wars/Star Trek").

It's very soon, however, that Scarlett Johansson's Black Widow pulls up and takes Rogers away. They've got a mission in the Indian Ocean rescuing a hijacked vessel with Maximiliano Hernández's S.H.I.E.L.D. Agent Jasper Sitwell among the hostages.
The rest of the ten minutes included scenes shown during Comic Con, in which Cap and Black Widow lead an assault on the boat that's been taken over by Batroc the Leaper. [Coming Soon]

Here's a poster of Anthony Mackie's Falcon. [First Showing]
---
Amazing Spider-Man 2
As we mentioned yesterday, it looks as though Sony liked what they saw in the sequel, since they've officially hired Marc Webb to direct Amazing Spider-Man 3 — scheduled to come out in 2016. No word on how long Webb will work on Spider-Man films, but Sony could try to keep a hold on him forever. [Comic Book Resources]