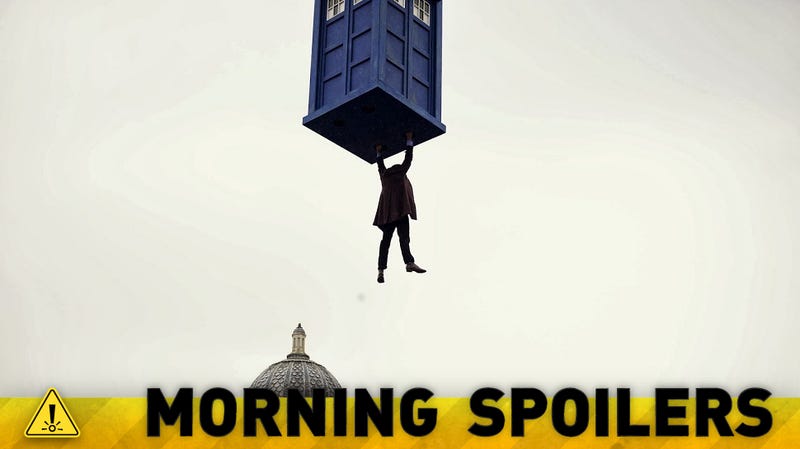 Ben Affleck says why he changed his mind after turning down the role of Batman. There's a real reason why Wolverine is the time traveler in Days of Future Past, and there's a new featurette for Star Wars: Rebels. Plus Alex Kingston returns to Arrow, and Bret Michaels plays himself on Revolution. Spoilers now!
Batman Vs. Superman
Everywhere Ben Affleck goes, he's being asked about Batman. Speaking with Entertainment Weekly, Affleck asked if he thought, with his recent success, he wouldn't get the Internet backlash that came with the announcement:
No. I mean, that's the sort of great and terrible thing about this business. Each project is kind of in its own silo, you know what I mean? You do something, it works, people say it works. And if the next one doesn't, you know, it doesn't. You don't get to start ahead because you did well last time. Without getting into the vagaries of the internet and who's sort of out there being vocal about it, at the end of the day, when you get into the arena of those kinds of movies, these superhero movies, particularly ones that are working with characters that everyone's known for so long, everybody's got these strongly held opinions and preconceived ideas about what it should be. I totally understand and recognize that. At the same time, I don't think projections about something that hasn't happened yet are all that meaningful. I think at the end of the day, it's like any other movie or project: You go out and make it great, people will say it's great. If you go out and miss, you'll hear about it. The stuff beforehand is kind of just the noise that happens.
Affleck also pretty much refused to answer a question about being in the suit for the first time, instead giving this roundabout response:
Well, I don't want to get too far afield and I'm sure I'll have time to talk about Batman down the road. What I'll say is that I really like Zack. From what I've seen of what's Zack is doing, it's made me very excited. One of the nice things about being an actor in that movie is they show you all the stuff before anyone else gets to see it. So all the sort of world-creation, and the take on the character and the other characters is really exciting. And at the end of the day, the truth is it's really directors that make movies work or not — especially these kinds of movies, where it's about the whole world, and a rising tide lifts all ships. And if it all has integrity, if it all has a sense of realism, then it works. And if it doesn't, than it doesn't really matter what everyone's doing [on the screen] because they just look like a bunch of Mexican wrestlers in suits.
[via Cinemablend]
Speaking with Playboy, Affleck also said that he initially refused the role, but took it because of Zack Snyder's take on it:
When they asked if I would be Batman, I told them I don't see myself in the role and I was going to have to beg off. They said I'd fit well into how they were going to approach the character and asked me to look at what the writer-director, Zack Snyder, was doing. The stuff was incredible.

. . . It was a unique take on Batman that was still consistent with the mythology. It made me excited. All of a sudden I had a reading of the character. When people see it, it will make more sense than it does now or even than it did to me initially.
He also answered the question about how this Batman would differ from Christian Bale's:
I don't want to give away too much, but the idea for the new Batman is to redefine him in a way that doesn't compete with the Bale and Chris Nolan Batman but still exists within the Batman canon. It will be an older and wiser version, particularly as he relates to Henry Cavill's Superman character.
---
X-Men: Days of Future Past
Writer Simon Kinberg explained why the movie sends Wolverine back in time, rather than Kitty Pryde, as it is in the comics:
We made the decision for a lot of reasons, some of them obvious and some of them more nuanced, to make it Wolverine who goes back in time. One reason is that he's the protagonist of the franchise, and probably the most beloved character to a mass audience.

Probably the bigger reason is that when we started thinking about the logistical realities of Kitty's consciousness being sent back in time, to her younger self, as opposed to her physical body being sent back..it was impossible. Obviously in the book it's Kitty, but you're talking about an actress (Ellen Page) who, in the age of Michael Fassbender and James McAvoy, would have been negative 20 years old. So we started thinking again, and the first reflex response to that was a character who doesn't age. Wolverine is the only character who would look the same in 1973 as he does in the future.
It's nice that he admitted that part of it was just that they think of Wolverine as the franchise's star. [Slashfilm]
---
Mad Max: Fury Road
Warner Bros. have pushed the film back to 2015, supposedly to keep from competing with the World Cup in the international market, and director George Miller is confident in the move:
Our film, luckily after a ridiculous amount of work, is testing extremely well. We're very happy. There has been a lot of doubt about it, [people saying] 'it took so long', but Warners have delayed it until 2015 to go into the top weekend of the year.
Miller also commented on the rumors of Mel Gibson cameoing:
It would have been nice somehow but, no, it's not true.
---
The Amazing Spider-Man 2
Here's a new official synopsis of the sequel:
We've always known that Spider-Man's most important battle has been within himself: the struggle between the ordinary obligations of Peter Parker and the extraordinary responsibilities of Spider-Man. But in The Amazing Spider-Man 2, Peter Parker finds that a greater conflict lies ahead.

It's great to be Spider-Man (Andrew Garfield). For Peter Parker, there's no feeling quite like swinging between skyscrapers, embracing being the hero, and spending time with Gwen (Emma Stone). But being Spider-Man comes at a price: only Spider-Man can protect his fellow New Yorkers from the formidable villains that threaten the city. With the emergence of Electro (Jamie Foxx), Peter must confront a foe far more powerful than he. And as his old friend, Harry Osborn (Dane DeHaan), returns, Peter comes to realize that all of his enemies have one thing in common: OsCorp.
The most interesting part of this new synopsis is that it names OsCorp as a major player in the plot, but doesn't name Chris Cooper as Norman Osborn. Maybe it just didn't fit, but with Shailene Woodley already cut as Mary Jane, it's a little worrying. [Coming Soon]
Go here for a complete set of new images from the film, including another look at Electro and some in-action Spidey shots. [First Showing]