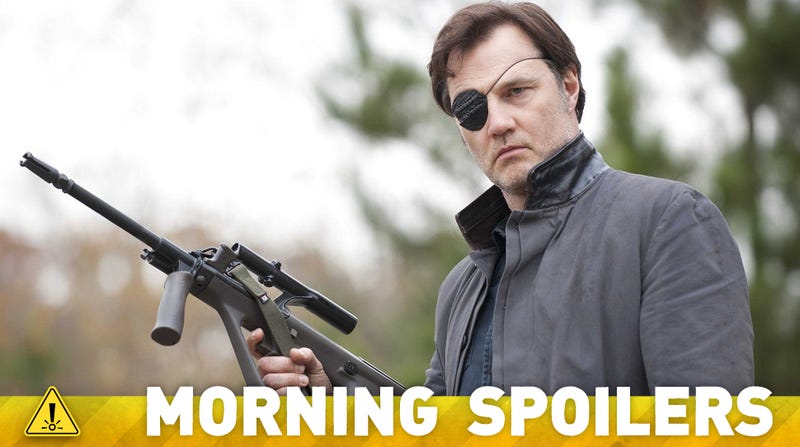 Steven Moffat tells how much of Doctor Who will revolve around the Doctor's new quest, Francis Lawrence says some controversial moments from Mockingjay are in the movies, and someone's in mortal peril in Teen Wolf. Plus, casting news from the Doctor Who Christmas special and The Walking Dead. Spoilers now!
Top image: The Walking Dead
Star Wars
The casting process has revealed a little bit more about the script for Episode VII. So far, the central characters seem to be "a tough-cookie girl in the 17- to 18-year-old range and a charismatic, funny guy from 19 to 23." These are apparently the characters that the producers and casting agents are searching everywhere for, which indicates that it's really important that the casting is perfect.
We also now have a hint that the script has changed pretty significantly from Michael Arndt's. According to sources, rewrites have casting agents looking for a "a 40-something military man a la Matt Damon in Elysium." This could be a new character, born between trilogies, or maybe a minor character from the original trilogy. Slashfilm posits that we could be looking at a description of Wedge Antilles, which would match Abrams' statements about paying tribute to the original films. [The Hollywood Reporter]
---
The Hunger Games: Mockingjay
Now that Catching Fire's out, director Francis Lawrence is already answering questions about the next film in The Hunger Games franchise. And one of those answers involves how much more psychological scarring we'll see:
To me Catching Fire is the beginning of it, where you start to see that damage and it only gets worse. Obviously if you know Mockingjay, you know stuff is done to Peeta and so there's a lot more exploration of that.
The other hint he gives is that the ending of the films will likely closely follow the ending of the books, which means that the epilogue will probably make it onto the big screen:
The ending of the book and the book itself is just really important to me. I will just say that we're making the book. But because we are splitting it into two there's room for world growth. I don't want to give anything away or anything, but we're being very true to the book.
More at the link. [Wired]
---
Avengers: Age of Ultron
This isn't surprising, since Elizabeth Olson herself confirmed it a while ago, but Marvel's officially announced that she'll be playing the Scarlet Witch and Aaron Taylor-Johnson will be playing Quicksilver. [Coming Soon]