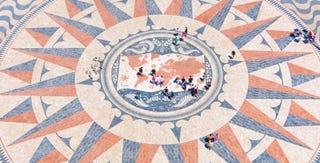 I want to focus on short fiction found in magazines, but the large number of awesome anthologies cannot be discounted and I know you love them. So once a month I'm going to take a tiny break from magazines and call out an anthology I'm enjoying too.
image credit: Glyn Lowe, Flickr
Letter to Lethe ("Kirje Lethelle") by Pasi Ilmari Jääskeläinen, translated by Lola Rogers | Words Without Borders
Just so you know, my beloved daughter, they tell me I was a charming man, the kind of witty rascal whose arms women had the bad habit of throwing themselves into. "You would have liked yourself," I'm often told. "It was impossible to be bored in your company." On the other hand, they also say that I was a compulsive Don Juan, that erotic conquests were as natural and indispensable to me as reading is to a bookworm.
I've heard other things about me, too. I have a notebook where I've collected anecdotes about myself, which I use to study the past. Some of them make me wish that I had known myself. Some don't.
Translated works have been on my mind a lot lately. I recently released an idea on my blog about how we can get more translations into major SF magazines that has people talking and considering. Members of the Interstitial Arts Foundation did a panel at WorldCon brainstorming and asking for suggestions on how do get more non-English work to English readers. And Neil Clarke of Clarkesworld has been rumbling quietly about a translation project he's been working on for the magazine, full details to come later this year. It's about to be an exciting time if you're into expanding your horizons, fiction-wise.