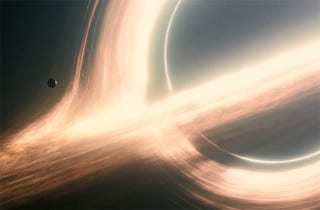 If you love epic space opera, you shouldn't miss Interstellar. But before you go, you need to be prepared to overlook its major flaws.
Interstellar is a thematic sequel to Christopher Nolan's last original film, Inception. It drops us into a dark future full of otherworldly landscapes and time distortions. Its spectacular action is propelled forward by tragic family secrets. The difference is that Interstellar tries to tell the story of humanity, and that's where it stumbles.
Space Opera Rightly Understood
It probably comes as no surprise that the greatest strength of this movie is its visual impact. Nolan is famous for melding surrealism and granular detail to create imagery that makes you feel like you're plummeting through the world's smartest amusement park ride. This is a movie about four people who take a fantastic journey to another galaxy through an artificial wormhole in orbit around Saturn. The wormhole itself is worth the entire price of IMAX admission. Glittering and alien, roaring with rock concert levels of sound, it has the potential to wrap you in badass levels of wonderment.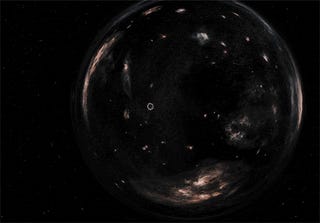 What we see on the other side of the wormhole is equally magnificent. A gas-ringed black hole is orbited by two planets with weather systems that stretch the imagination — and test our characters' endurance. This aspect of the film, the pure Golden Age science fiction story of visiting strange worlds, does exactly what space opera is supposed to do. It takes your breath away, and fills you with a wanderlust the likes of which only a wormhole can truly satisfy.
Nolan shot the film using a lot of practical effects, and this really matters when it comes to the spaceship sequences. The pilot Cooper (a scenery-chewing Matthew McConaughey) and his crew are in a ring-shaped vessel called the Endurance, and every time the landing ships dock with it you can see the telltale wobbles that reveal this isn't a perfect, clean CGI creation. I'm not saying the ships look like models — in fact, they look more realistic than anything digital. There's a feeling of heft and fragility that you get with practical effects that CGI never achieves, and it's perfect for this story.
As writer Jonathan Nolan has said, the look is also a major tip of the hat to 2001, which inspired many aspects of Interstellar.