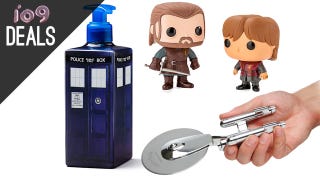 Today's a perfect opportunity to stock up on gear from all of your favorite movies, TV shows, and games. Just buy anything on ThinkGeek, and you can get any other item on their site (of equal or lesser value) for 50% off.
---
Even if you don't play many games, the BioShocks are fantastic works of fiction by any measure, and worthy of a playthrough. Today you can get them all for just $12.
---
You unlock this box set with the key of imagination. Beyond it is another dimension - a dimension of sound, a dimension of sight, a dimension of deals.
---
Amazon's Gold Box Deal of the Day is one of the first big sales we've seen on one of the funniest games out there. $43 gets you a physical copy of Stick of Truth on PS3, 360, or PC, and $45 buys you a PC download, if that's your preference. [Amazon]