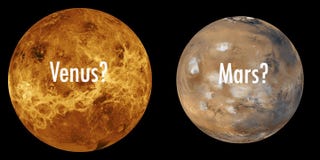 Transforming another planet, moon, or other celestial body into a world fit for human habitation may be a key component of our post-Earth survival. But how will we determine which worlds should be terraformed and which should be left alone?
Terraforming is just one possibility for human colonization of space. In his seminal work Terraforming: Engineering Planetary Environments, Martyn Fogg notes that a terraformed planet has certain advantages over other potential human life support systems, such as a space station or a contained biosphere: Ideally, a fully terraformed planet would require only partial monitoring and control of the system, wouldn't require a container to be built and maintained, and would have no external resupply requirements.
There's also something appealing about creating a new Earth-like home for humanity. We may not discover planets or moons where we can automatically step off a spaceship and survive, but we may discover bodies that are hospitable to life—or even already contain some form of life—planets that may be ripe for terraforming.
How feasible terraforming is and how we will accomplish it is an idea that will change as our technology advances and our understanding of how lifeforms are impacted by life in space and on other celestial bodies. But already, we have proposals for terraforming Mars and Venus —and out current understanding of the universe makes some celestial bodies a better target for terraforming than others.