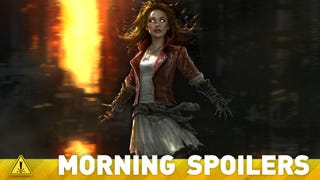 There's casting news from Hunger Games: Mockingjay Part 2, Jurassic World, and The Stand. Godzilla's screenwriter talks about the character's relevance in the modern world. And John Barrowman talks Arrow's finale, and a possible return to Torchwood. Spoilers now!
Top image: Concept Art from Avengers: Age of Ultron
Avengers: Age of Ultron
In a recent feature on I Am Rogue, Aaron Taylor-Johnson described how he got the role of Quicksilver and, in doing so, revealed a bit about how he and Scarlet Witch are being incorporated into the Avengers:
Just before I started Godzilla I met Joss. He said to me, 'Do you want to be in Avengers 2? There is a super hero I'm thinking of for you.' The thing for me was for him, 'Why add any more super heroes to this thing?' He said, 'No, there are these two characters that I want to bring in to like fuck with the Avengers and not be just an add on.' He told me a little bit about the writing and I said that the only reason I would want to do it is if it is a character that can still stand out.

You know, you've got five of the most awesome super heroes, ten I suppose, there are about ten Avengers now, and they are all movie stars. You've got such a huge cast, what the hell difference is it going to make if I come on the scene? So it was the character and that took about a year of going back and forth about it. It took a while but I'm super happy to be in that one.
He also said that he and Elizabeth Olsen are filming with accents, but he doesn't know if they'll be keeping them in the final cut.
Olsen, for her part, is excited for her part, saying:
It's awesome to try and create a role that has not been portrayed in live action yet. It's been cartoons, comics, and video games. It's fun to take what we are doing, the comics, the cartoon, and the fans, and try to figure it out where you are going to play.
---
The Hunger Games: Mockingjay Part 2
Eugenie Bondurant will play Tigris in The Hunger Games: Mockingjay Part 2. Tigris is a shopkeeper in the Capital. [Coming Soon]
---
Godzilla
Max Borenstein, the screenwriter for the film, and co-writer of the prequel graphic novel Godzilla: Awakening, spoke about what he thinks the core theme of the story is:
I think what's so interesting about that is that he becomes a vessel containing this multitude of different ideas, but the common denominator is this idea of a force that is so much more powerful than we are, that is beyond our human control, and so the common denominator of every Godzilla is humanity's arrogance in our belief that we control our surroundings, control our destiny, control the world around us. Whether it be by intelligence, technology, faith, you name it, and when that false confidence bucks up against the reality, which is that we are but insects in this universe and even in this world. We are not the most powerful thing in this world. Now that's obviously very explicit in a film like Godzilla where you've got a giant monster who comes in and smashes our cities and says "You are not the most powerful thing in this world." That's certainly, I think, a truth that's very fundamental to the human experience. We always, every generation, believe we are in control, it's human nature, and every generation is always constantly proved wrong.

This day and age I think what resonated with me, and one thing that Gareth [Edwards, the director] and I seized on and talked a lot about in early days, was that we live in an age seemingly of the cataclysmic natural disaster. The natural disaster that is not necessarily entirely naturally, that often times is exacerbated by climate change or on the other end by the levees that we built poorly or the nuclear plants we built in the wrong place, always with the arrogance that nothing would happen and then of course we're always proved wrong. These things seem to be happening in the real world in a way that is absolutely terrifying, so Godzilla struck me as a perfect embodiment of that, so that became part of the root of what we were going to pour into this vessel.
---
Jurassic World
Andy Buckley (The Office) has joined the cast of Jurassic World. No word on what his character is, yet. [Variety]
---
Insidious 3
James Wan will not be directing the third Insidious movie, and he announced his successor via Twitter:
A press release adds the info that the third movie will come out on April 3, 2015 (and mentions that Whannell co-wrote and starred in the Sundance fave Cooties.) And here's a quote:
Peter Schlessel, Focus Features' CEO, said, "It's with great pleasure that we turn the INSIDIOUS franchise over to the co-creator Leigh Whannell. We are all excited to see in what direction Leigh takes the next installment and we are also glad to welcome James Wan to his new role as producer."
---
There Are Monsters
Elisabeth Moss will star in There Are Monsters, a film following a mother and child who are trapped in a cave and tormented by a mysterious creature. [Screen Daily]
---
The Stand
Director Josh Boone is writing a part specifically for actor Nat Wolff, whom he worked with in The Fault in Our Stars. The film is an adaptation of the Stephen King novel The Stand, which follows a many characters after a virus wipes out a large amount of the population. [The Hollywood Reporter]
---
X-Men: Days of Future Past
Here are two new images from the film. [Coming Soon]
---
Guardians of the Galaxy
Here are two new photos of Peter Quill in his full Star-Lord outfit [Coming Soon]
---
Dawn of the Planet of the Apes
Here's a glimpse of the new trailer, which comes out later today. [via Slashfilm]
---
Coherence
Here's a trailer for Coherence, which takes place on the night of an "astrological anomaly," and follows eight friends at a dinner party experiencing a "troubling chain of reality bending events. " [Film School Rejects]
---
Arrow
Here's all John Barrowman can say about the finale:
This is how I'll describe it. Anybody who is a fan of the show — I'm over here in London, and I was just in Glasgow, Scotland yesterday. I have people coming up to me, who are big fans of "Doctor Who" and "Torchwood," and are now fans of "Arrow." They're like, "Tell me what's going to happen." I'm like, "Guys, all I can tell you is that when you get to that final episode, you're going to look at your television and go, 'What??? Bring it back! Bring it back!'" Everything is going to be chucked up in the air. It's like someone has taken a trampoline and bounced everybody off of it. You are not going to know what's going to happen.
Speaking of the finale, Canadagraphs has a set report describing a battle between Team Arrow and Slade's army, with Nyssa al Ghul and some actors in League of Assassin dress fighting on the side of Team Arrow. Also on the scene was a masked Roy Harper with a bow. See some of the set photos below, more here. [Canadagraphs]