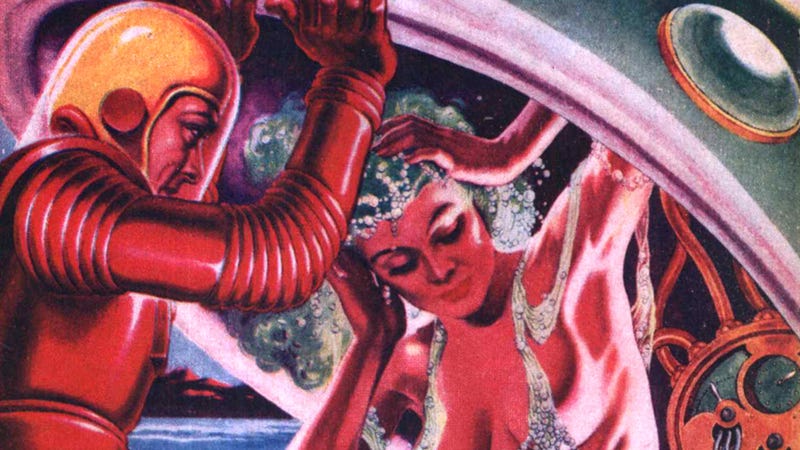 Describing stuff can be the hardest part of writing prose fiction. You have a scene in your head, with all the dialogue and action, but now you have to fill in what everything looks like. There's nothing more boring to write, or read, than a long descriptive passage — but here's how to spice it up.
Descriptive passages are something I struggle with, both as a writer and as a reader. If I'm reading a book and hit a long paragraph of scene-setting, I have to struggle to keep from skimming a bit. And when I write my own fiction, I often find myself skimping on description, because I get bored doing it. How many ways can you describe a face? Or the layout of a particular building? How many ways are there to say "he had a square face and brown eyes." Probably the fact that I have a certain amount of face-blindness and no eye for décor doesn't help.
But descriptive passages are important — they make the difference between your story feeling real, and it feeling like sketchy. Stories that don't provide enough description, or vivid enough description, feel like one of those 1970s Hanna-Barbera cartoons where people run past endless doodley backgrounds with no differentiation. The more you can engage your reader's senses, the more they'll feel present in the scene.
So how can you create description that engages the reader instead of activating the dreaded "skim" reflex? There is no magic bullet, but here are some things that could help.
Commit to never being boring. To avoid boring descriptions, you first have to make a decision that you won't settle for blocks of dull text. And stop thinking of the descriptive passages as wallpaper. You put a lot of effort into making your dialogue zingy and quotable — do the same for your descriptive passages. This sounds obvious, but it's an important first step.
Engage all five senses. Again, starting with the obvious. Description isn't just visual and auditory, but also includes touch and smell. And maybe taste, if it's a kitchen or restaurant. Smells help a lot, especially vivid ones. Like a really pungent ammonia smell, or a dreadful musty smell. Mentioning the temperature of a room also helps sell that it's a real place. Ditto when you're describing a person — what do they smell like? What do their clothes feel like if you touch them?
Try being super terse. Description can be vivid without being lengthy — in fact, you could argue that less is more when it comes to vividness of description. You can convey a lot with a few well-chosen words. Like: "The Apple Genius Bar had a gleaming white counter lined with eager T-shirt-clad acolytes, but the odor of stale coffee and fried motherboards assaulted her nostrils as soon as she approached."
Make it dynamic rather than static. This is a huge one. Things change, and no person or place has been the same forever. Often, the best description tells a story. Like: "Judging from his bulk, he'd been a bodybuilder once, but then he'd run to seed." Or: "Someone had obviously bought a simple two-storey mock Tudor house and tried to add extra turrets to it, after which a second owner had tried to add some Japanese-style rice-paper screens to the front room." Description that takes you through the evolution of a person or thing is more memorable than a static snapshot.
Make fun of the thing you're describing. Depending on the tone of your story, of course, you can go for humor. Like in one story I published in Lightspeed a while back, I describe a character thusly: