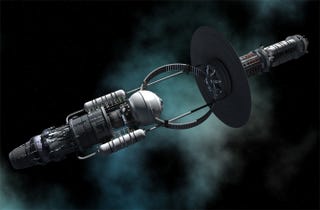 According to theory, it may be possible to create an advanced propulsion system that would harness the available energy from an evaporating black hole, a so-called Schwarzschild Kugelblitz drive. Here's how it would work.
Above: Artist's rendition of a Schwarzschild Kugelblitz Starship. Adrian Mann, Bisbos.com.
Interstellar flight certainly ranks among the most daunting challenges ever postulated by human civilization. The distances to even the closest stars are so stupendous that constructing even a scale model of interstellar distance is impractical. For instance, if on such a model, the separation of the Earth and sun is one inch, the nearest star to our solar system (Proxima Centauri) would be 4.3 miles away!
The fastest object ever built by the human species is the Voyager 1 space probe, moving at a speed of 18 miles per second. If it were heading toward Proxima Centauri (which it's not), Voyager 1 would reach our nearest stellar neighbor in about 80,000 years.
Clearly, if interstellar travel is to be accomplished on human timescales, much greater speeds are required. At 10 percent of the speed of light (a thousand times faster than Voyager 1, but a conceivable speed for likely soon-to-be-realized fusion engines), Proxima Centuri could be reached in approximately 45 years — less than a human lifetime.
Related: How to detect massive alien spaceships powered by stars | Meet the people who want to build our first starship