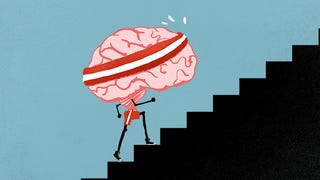 The holiday season is over, so it's time to get serious about your New Year's resolutions. But those fine intentions are only as good as your self-control. Here's what you need to know about the neuroscience of willpower — and what you can do to make your will even stronger.
Illustration by Tara Jacoby
Willpower, or self-control, is defined as the exertion of control over the self by the self. It occurs when a person tries to change the way they would otherwise think, feel, or behave. Ideally, these behaviors are intended to maximize or enhance our best interests. It's also powerfully adaptive.
When we exercise self-control, we delay gratification and resist temptation in the here-and-now to avoid self-destructive behaviors. So, by holding off on that cheesecake, or by putting a few extra dollars into your savings account instead of making an impulse purchase, you're exerting self-control. And you're making your life better or more healthy in the long term.
A Limited Resource
Before we talk about the various ways to boost our willpower, it's important to know how and why it becomes diminished. The general consensus is that the brain can only handle a limited amount of self-regulation before other areas of focus start to slip. As the seminal work of Florida State University psychologist Roy Baumeister has shown, it's basically a limited resource; like fuel, it gets used up when we control our thoughts, impulses, or feelings, or when we change our behavior in pursuit of goals.
Cookies or radishes? The choice to resist taxes our willpower. Image: Pixabay/CC
Studies show that when we successfully accomplish one task that requires determined focus, we become less persistent on a second unrelated task. In an interesting experiment, hungry participants were asked to eat radishes while others were given aromatic chocolate chip cookies. Afterwards, those who were asked to eat the radishes — i.e. those who had to exert willpower — gave up on a complicated puzzle far earlier than the others, working less than half as long.
A follow-up study by Baumeister's protégé, Jean Twenge, yielded similar results. He had participants decide which of amongst numerous products (pens or candles, black or red t-shirts) they'd prefer to receive. Following that exercise, their willpower was tested by having them hold their hand in an ice-water bath. Compared to participants who merely gave their opinion of the same products and reported how often they had used those items in the past month, those who had to choose which item they desired had a much-diminished ability to hold their hands under water.
Part of the problem is that willpower requires a relentless and seemingly endless stream of decision-making. This results in "decision fatigue," a phenomenon that works to diminish self-control.
Back in 2000, a study considered how the number of choices might influence purchasing behavior of a variety of jams. When participants encountered a booth with 24 jams, as opposed to just six, they were more likely to stop to try the jams. However, in both cases, participants ended up sampling between one and two jams, on average — and moreover, people who stopped at the limited choice booth were much more likely to actually buy jam than people who stopped at the extensive choice booth. The study suggests that people don't do well when they're presented with too many choices; it's simply too exhausting, and it wears down our ability to exert power over our behavior.
Conversely, a recent study found that a strong belief in free will can make decision-making more enjoyable, and can increase our satisfaction with choices after we've made them. It can even make us more productive.
Also, watching reruns can actually help us restore willpower. A SUNY Buffalo study showed that familiar shows serve as a form of "social surrogacy." Previous work has suggested that positive social interactions can restore depleted willpower. And because reruns are predictable (and not fraught with the stress of negative social interactions), they can actually provide beneficial effects to not just self-control, but to concentration and mood as well.