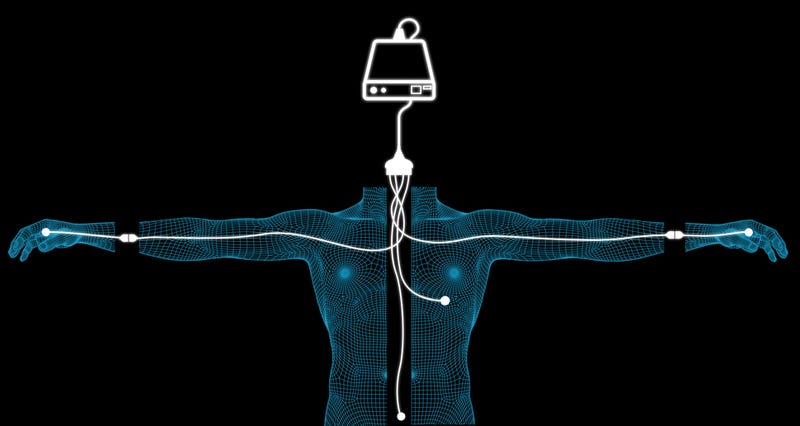 The prospect of uploading your brain into a supercomputer is an exciting one — your mind can live on forever, and expand its capacity in ways that are hard to imagine. But it leaves out one crucial detail: Your mind still needs a body to function properly, even in a virtual world. Here's what we'll have to do to emulate a body in cyberspace.
Illustration by Jim Cooke
We are not just our brains. Conscious awareness arises from more than just raw calculations. As physical creatures who emerged from a material world, it's our brains that allow us to survey and navigate through it; bodies are the fundamental medium for perception and action. Without an environment — along with the ability to perceive and work within it — there can be no subjective awareness. Brains need bodies, whether that brain resides in a vertebrate, a robot, or in future, an uploaded mind.
In the case of an uploaded mind, however, the body doesn't have to be real. It just needs to be an emulation of one. Or more specifically, it needs to be a virtual body that confers all the critical functions of a corporeal body such that an uploaded or emulated mind can function optimally within its given virtual environment. It's an open question as to whether or not uploading is possible, but if it is, the potential benefits are many.