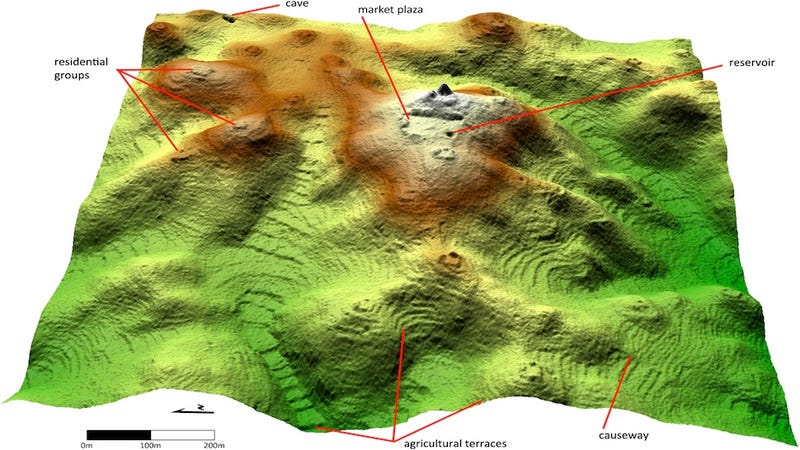 Archaeologists are finding more ancient cities and lost human settlements than ever before. And it's all thanks to new imaging technologies commonly used in surveillance. With highly-accurate measurements from satellites, drones, LiDAR, and more, archaeologists are making discoveries that were once impossible.
Patricia Murrieta-Flores, an archaeologist at Lancaster University in the U.K., told io9 that archeologists have long been early adopters of new technology: "Since very early on, archaeology has learned and adapted theories, methods and techniques from other disciplines, such as geology, geography and chemistry, among many others." Though a previous generation's archeologists might have carried trowels, dustpans and maps, these days they're more likely to be using radar.
Over the past thirty years, the field has rapidly evolved, and now makes use of satellite imagery, ground-penetrating radar, computed tomography (CT scans) and even robotic drones. Here are some of the discoveries these spy technologies have made possible.
The View From Above
Before archaeologists can excavate a new discovery, they need to find it first. In the past, this could involve poring over historical records and maps. Nowadays, archaeologists have added another tool to help them locate areas of interest: Satellite imagery.
In fact, researchers have made important discoveries just by looking at Google Earth images. In 2011, archaeologists used the popular 3-D map program to see what archaeological secrets are buried in Saudi Arabia — they found that large portions of the country are rich in archaeological remains that may be several thousands of years old. And last year, satellite archaeologist Angela Micol made waves when she reported that she found Google Earth anomalies that may be pyramids buried in Egypt (her claim drew a lot of criticism from other scientists, but Micol and others are working to determine what the structures in the images really are).