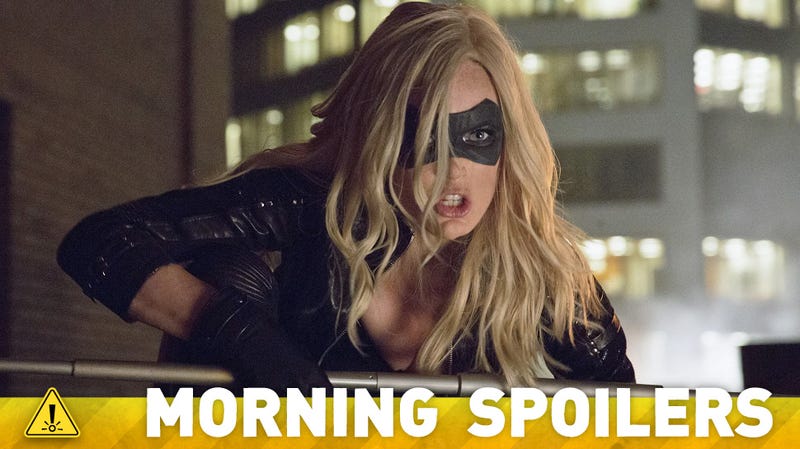 James Gunn explains exactly how Thanos is involved in the plot of Guardians of the Galaxy, Melissa McBride comments on Carol's future on The Walking Dead, and John Noble says he's playing Ichabod's father-figure on Sleepy Hollow. And find out how Black Canary's secret identity changes everything. Spoilers now!
Guardians of the Galaxy
James Gunn gave CraveOnline some details as to the extent of Thanos' involvement as a villain in Guardians of the Galaxy:
Thanos is a character in our movie. He works with Ronan. In my movie Ronan works for Thanos, and Ronan is the main bad guy in our film.
This is in line with earlier statements from Kevin Feige that the Thanos is both in this movie, but is the "big bad" for later on. He also described the sets and effects they will have:
We have a prison set that is 350,000 pounds of steel. Our sets are enormous. Anybody who knows me knows I really love the mix of practical and CGI effects and I carried that over into this movie. We have tons and tons of practical effects… I can't wait for people to see it because it's astoundingly beautiful.
---
Marvel
Speaking of Marvel, Kevin Feige explained at an IGN Q&A what the studio's stance is on crossing over their film universe with the one currently in the hands of Sony:
I would never say never. I would say, not any time soon would we be in a position to team up with other studios who [have] a few of our characters, because we have so many characters ourselves.
---
Transformers 4: Age of Extinction
Congratulations, everyone, we're that much closer to another Michael Bay explosion extravaganza. Principal photography is finished and it looks like they're in the post-production phase now. Bay tweeted:
It's a wrap on Transformers 4! Michael Bay & crew are coming home.
---
Lockdown at Franklin High
Marvel Studios storyboard artist and animatics supervisor Federico D'Alessandro is in talks to direct Lockdown at Franklin High, which is being produced by Michael Bay's Platinum Dunes. It focuses on a good-girl and her in-trouble brother who are trapped with a monster by a school lockdown. [The Hollywood Reporter]
---
The Walking Dead
Melissa McBride's all cagey about whether we'll see Carol again after she was abandoned:
EW: So, of course the big question is: Will we see Carol again?
McBRIDE: I can't say for sure one way or the other. I hope we do. I hope that's not the last of her, but you know the way this show is. I don't know. It's unpredictable. The show is unpredictable. And we always think, well, if we don't see them die on camera, there's always a possibility. And then we do see them die on camera and sometimes they still come back, so who knows?
---
Arrow
We now know that Caity Lotz's Black Canary is really Sarah Lance, Laurel Lance's believed-to-be dead sister. Lotz explained whether or not that secret will be kept from the Lance family:
I think it's important to her. After everything that's happened to her, she doesn't really feel like she's worthy of love anymore. So the thought of her coming back into her family's life doesn't feel like it would be anything good for them. So it's something she's going to try not to do. Deep down, I think there's definitely that wish that she could, but there's just so many things. The next episode will be a lot of fun because we get to see that there's a danger to her family with the League of Assassins, so she has to confront some things.

The League of Assassins is a group with some deep history in DC Comics. And we've heard you directly say Ra's al Ghul's name now…

Lotz: Yeah, they're the best of the best when it comes to being fighters and being killers, and Sara's a pretty good fighter, so it'll be interesting as they reveal more of her relationship with the assassins. There's actually something really exciting... I, of course, don't want to give anything away, but there's some really exciting connections with Sara and R'as al Ghul.
Lotz also said that we'll be seeing more of Sara and Sin:
There seems to be a very close bond between Sin and Sara. Will we see more of that in the coming weeks?

Lotz: Yeah, they're both kind of outcasts in their own right. They've found this dear little friendship together. Sin's such a sweet character, and she's tough, but she's a good soul. I think Sara really connects to that. Sin's going to have a nice presence on the show, which will be cool. Hopefully we'll get to develop a lot of that between Sara and Sin, because Sin doesn't really know Sara. She mostly knows her as the Canary.
More at the link. [IGN]
In another interview, Lotz said that Sara's being used by the people she's with:
There are a lot of mind games being played with Sara, by the people who have her. That's definitely influencing things.
[TV Line]
According to Lotz, future episodes will go into Sara's past with Oliver:
I think she's changed so much that crushes and things like that are not something she feels like she can even afford to have anymore. She doesn't get that kind of liberties, so I don't think that's really in her mind anymore. That's also another thing we kind of learn more about too is the history of her feelings for Oliver.
Apparently, it'll be Oliver himself who hooks up Felicity with Barry Allen. Bad news for shippers. [TV Line]
Go here for a complete set of photos from episode 2.06, "Keep You Enemies Close." [SpoilerTV]