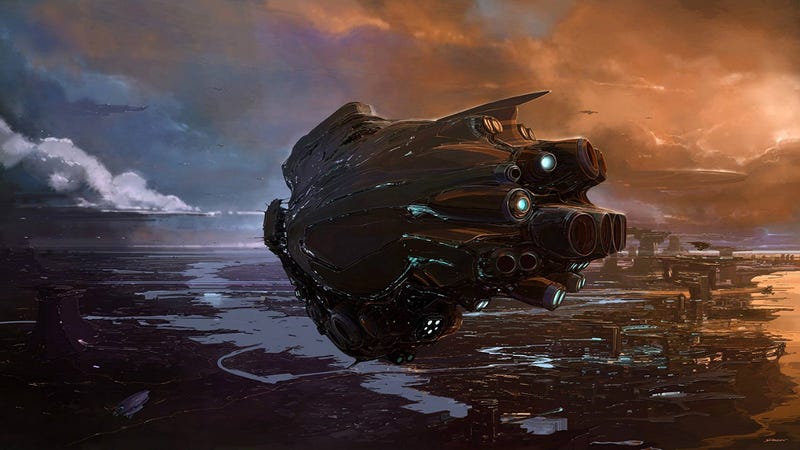 Forget about generation ships, suspended animation, or the sudden appearance of a worm hole. The most likely way for aliens to visit us — whatever their motive — is by sending robotic probes. Here's how swarms of self-replicating spacecraft could someday rule the galaxy.
Back in late 1940's the Hungarian mathematician John Von Neumann wondered if it might be possible to design a non-biological system that could replicate itself in a cellular automata environment, what he called a universal constructor. Von Neumann wasn't thinking about space exploration at the time, but other thinkers like Freeman Dyson, Eric Drexler, Ralph Merkle, and Robert Freitas later took his idea and applied it to exactly that.
Mathematically Efficient
The strength of Von Neumann's idea lies in the brute efficiency of exponential growth. Given enough time and patience, a single self-replicating probe (SRP) could produce millions upon millions of offspring; it would be like a massive bubble expanding outward into the Galaxy. Theoretically, these probes could occupy all four corners of the Milky Way in as little as half a million years – even if each probe were to travel at an average cruising speed of one tenth the speed of light (though, as I'll describe later, more recent estimates place it at 10 million years, which is still an incredibly short amount of time cosmologically speaking).
Physicist Michio Kaku describes Von Neumann probes as "the most mathematically efficient method to explore space:"
A Von Neumann probe is a robot designed to reach distant star systems and create factories which will reproduce copies themselves by the thousands. A dead moon rather than a planet makes the ideal destination for Von Neumann probes, since they can easily land and take off from these moons, and also because these moons have no erosion. These probes would live off the land, using naturally occurring deposits of iron, nickel, etc. to create the raw ingredients to build a robot factory. They would create thousands of copies of themselves, which would then scatter and search for other star systems.
In order to work, a von Neumann spacecraft would have to tap into advanced nanotechnology and artificial intelligence — technologies that advanced extraterrestrial civilizations are likely to develop. In fact, the device itself would be a molecular assembler, capable of reconstituting matter into copies of itself, which is why SRPs are also referred to as kinematic self-replicating machines.
And indeed, these probes would be remarkably efficient. A recent study published in the International Journal of Astronomy pointed out that extraterrestrial intelligences (ETIs) could use the slingshot effect to propel SRPs from star to star. And yes, that's the same method used to propel the Voyager spacecrafts through our solar system from planet to planet. For it to work on a galactic scale, however, SRPs would use slingshot maneuvers around stars, gaining a boost in velocity by extracting energy from each star's motion around the galactic center. The slingshot effect would carry little-to-no extra cost and result in a 100-fold increase in efficiency; models show that this technique could be used to send probes to every solar system in the galaxy in as little as 10 million years! Adding to the efficiency is the realization that SRPs could replicate on the fly, building duplicates of themselves while they're traveling. The probes would collect matter, like dust and gas, from the interstellar medium as they traverse vast distances.