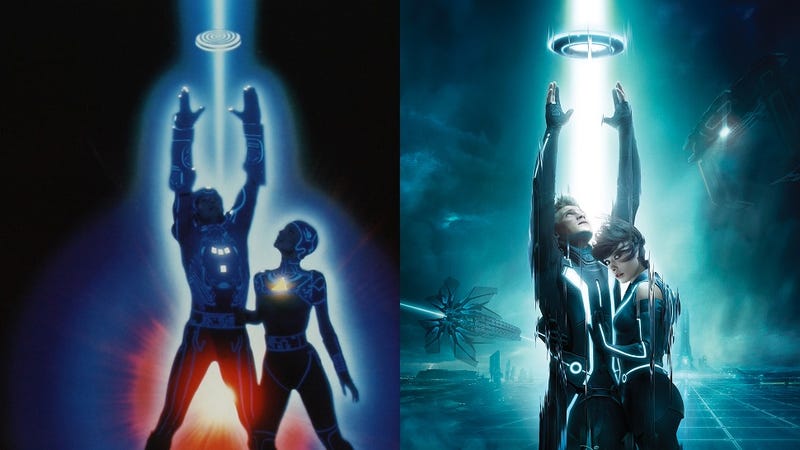 The other day, Second Life celebrated its 10-year anniversary. But long before that venerable virtual world came into existence, we were dreaming up images of virtual reality and cyberspace.
Top image: Tron vs. Tron Legacy
It seems like there are a few basic ways to represent "cyberspace" and virtual reality. You can have basic reality, with the occasional glitches or incongruities. You can create a surreal dreamscape that is clearly not "reality" as we know it. You can use actual computer graphics, or try to approximate computer graphics somehow using animation. Or you can just go for something extremely cartoony.
As computer animation and CG effects became more sophisticated, in the 1990s, the scope for film-makers and designers to create "computerized" looking worlds became greater — but by some point in the late 2000s, CG animation and motion-capture start being convincing enough that we no longer accept a virtual world that looks obviously computer-y or excessively 8-bit. To some extent, the evolution of our imagery around virtual worlds reflects our increased computing power and our greater sophistication when it comes to imagining our interactions with computers in general.
Just look at the difference between Tron and Tron Legacy.
Note: I apologize in advance if any of these images are mis-categorized, since some of the series we're dealing with here have had lots of different installments. Also, I'm sure we left out some important stuff — please let us know what we missed below!
Welt am Draht (World on a Wire), 1973
Rainer Werner Fassbinder's famous TV miniseries depicts a simulated world inside a supercomputer, populated with thousands of "identity units," who believe they're people. There are strange shrill sounds and messages pop onto the screen, but mostly the dislocation of a virtual world is conveyed through dreamlike imagery and odd camera angles, such as having the camera low to the ground, moving slowly on a dolly.
---
Doctor Who, "The Deadly Assassin" (1976)
This landmark episode of Doctor Who saw the Doctor going inside the Time Lord computer network, known as the Matrix — only to find a nightmarish virtual world, where he's hunted and attacked. After a bit, the Matrix settles down into looking like a regular jungle — but at first, it's a bit more surrealistic, with eyes appearing in cliffsides and mirrors hidden under the sand, showing clown faces.
---
Tron (1982)
The classic "human sucked inside the computer" movie, Tron was one of the first films to use computer graphics to help tell the story — but it also uses strange fluorescent lighting, weird sets and old-school animation and compositing to create the sense of a strange virtual environment.