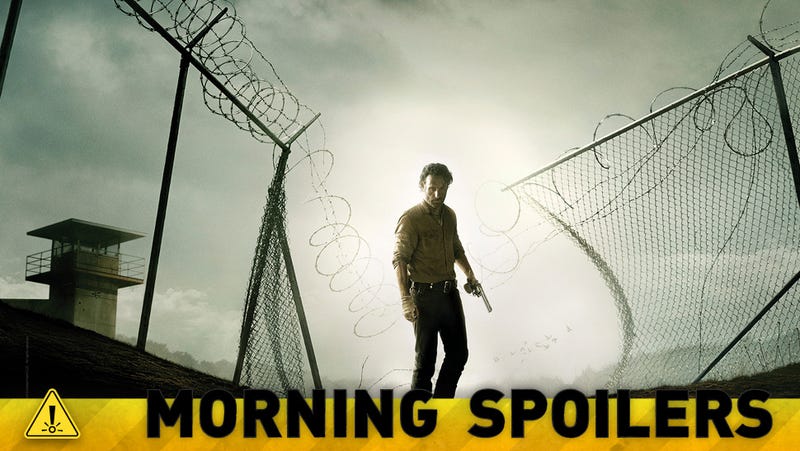 Learn some details about Stevie Nicks' role on American Horror Story, what new and returning characters we'll soon meet on Arrow, and a longtime Christopher Nolan collaborator may not be involved with Man of Steel 2. Plus, there's a ton of Ender's Game video. Spoilers now!
Ender's Game
There's a lot of new Ender's Game videos out there. First, here are eight clips released by Summit Entertainment. [via Coming Soon]
Second, here is nine minutes of behind the scenes footage and set interviews from Screen Slam. [Ender's Ansible]
---
Star Wars
Benedict Cumberbatch is still playing coy about whether or not he's being considered for a role:
Whatever rumours there are, there have been no offers made. As far as I'm aware, although I've been in a darkened room for the last five days talking about films, no offers have been made to anyone apart from, obviously, the regulars who are returning.

I was a massive schoolboy fan of [Star Wars], you know? I still am. I love that series of films and I really, really enjoyed working with J.J. It was a trip and he's a dear friend. And he knows, he knows my number and that's all that anyone knows.

It's not up to me to speculate. There's been enough of that already. So let's just wait shall we? Until J.J. goes and asks the people he wants to come and play with him. And then I'll talk about it.
---
Tron 3
Tron Legacy co-writer Adam Horowitz says everything's in place for the sequel, they're just waiting for the studio to give them the green light.
Hopefully we'll have some news about what's going on forward with the next one soon.

There's nothing official to announce now but hopefully soon, but it's chugging along. It is. Eddie [Kitsis] and I are co-producers on the film. And we have a script that's being written by a great writer named Jesse Wigutow. And we're really, really excited.

I mean the studio is hopefully excited, but Joe [Kosinski, the director] is involved and everybody's involved and everybody is waiting to get the go-ahead and we're hopeful.
---
Man of Steel 2: Batman vs Superman
Despite doing all of Christopher Nolan's Batman movies and the first Man of Steel, Hans Zimmer's not so much on board for scoring the next one:
Honestly, I'm just sort of grappling with that right now. Quite seriously, the thought right now is that no, I don't want to go and take what I did with Chris and just plonk it into another movie. There isn't one good reason to do it, and there are so many good reasons not to do it.

Zack hasn't talked to me about it, so I don't have to worry about it! I'll worry about it when I have to worry about it, and then, if I'm lucky, I'll have an idea. If I have an idea, I can do something with that, but if I don't have an idea, then my good idea is going to be, 'Get somebody else.'
---
Thor: The Dark World
Here are three new clips from the upcoming sequel:
---
Mr. Peabody and Sherman
Go here for a look at all of the first pictures of the movie based on the time travelers from Rocky and Bullwinkle. [Cartoon Brew]