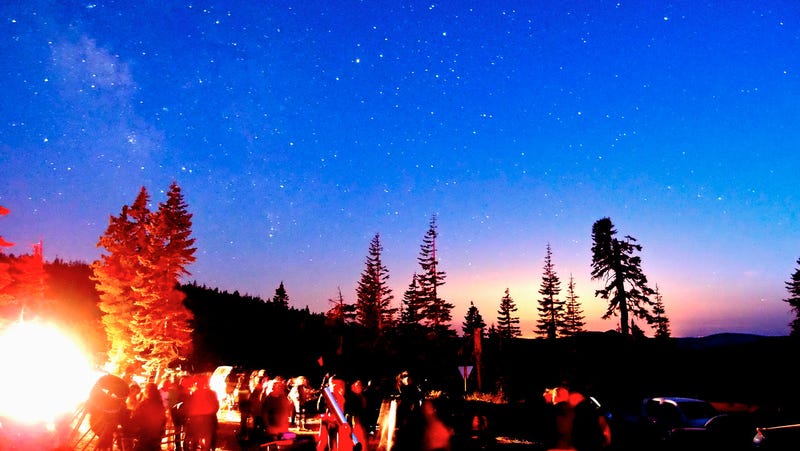 When you camp in the Sierra mountains of California, the night skies are incredible. Our Milky Way galaxy is splashed across the dark dome, and you can see every constellation that's normally blotted out by city lights. Now, imagine you're out there with astrophysicists, explaining it all to you. That's how I spent my summer vacation.
Photo by Jonathan Wheatley
Along with about fifteen other students, I took a unique hands-on class called Practical Observational Astronomy, taught at the San Francisco State Sierra Nevada Field Campus high in the California Sierras near Truckee. The course is part of an unusual summer program at the campus, where community members mingle with State students, and everybody camps out together in tents (thankfully, there are nice warm showers and flush toilets for us city types). Breakfast and dinner were communal affairs in a simple two-story building full of natural light that doubled as our classroom.
Surrounded by trees and streams, we spent our afternoons in the camp classroom/dining hall learning everything from how to read star maps and recognize common deep sky objects, to how telescope optics work, the life cycle of stars, the basics of spectrometry, and even the fundamental structure of the universe. By night, our classroom was the heavens. We drove up to a lookout area called Packer Saddle, set up several large telescopes provided by our helpful teaching assistants, and put everything we learned by day into practice.
Photo by Jonathan Wheatley
Our teacher was Martin Sirk, an infectiously enthusiastic astrophysicist who researches variable stars at UC Berkeley and builds his own telescopes for fun. It was kind of like getting basic guitar lessons from a rock star. Martin made sure we knew beginner-level stuff, but it wasn't hard to get him speculating about advanced concepts like how to measure the mass of the black hole at the center of our galaxy.