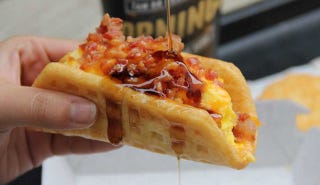 Over a third of the global population is now overweight, and the percentages are increasing. Some neuroscientists have suggested that the rise of so-called "hyperpalatable foods" may partially explain the unprecedented rates of obesity.
Above: The Taco Bell Taco Waffle. Credit: Taco Bell.
Our food environment has changed dramatically over the years, most notably through the introduction of so-called "hyperpalatable" foods. These foods are deliberately engineered in such a way that they surpass the reward properties of traditional foods, such as vegetables, fruits, and nuts. Food chemists achieve this by suffusing products with increased levels of fat, sugar, flavors, and food additives.
Chart: Gearhardt et al.
Conditioned hypereating
David A. Kessler, author of The End of Overeating: Taking Control of the Insatiable American Appetite and former head of the FDA, claims that the food industry has combined and created foods in a way that taps into our brain circuitry, thus stimulating our desire for more. On their own, these ingredients aren't particularly potent, but when combined in specific ways, they tap into the brain's reward system, creating a feedback loop that stimulates our desire to eat and leaves us wanting more — even when we're full.
As Kessler told the New York Times, restaurant chains like Chili's cook up "hyper-palatable food that requires little chewing and goes down easily," while a Snickers bar is "extraordinarily well engineered." As we chew it, he says, the sugar dissolves, the fat melts and the caramel traps the peanuts so the entire combination of flavors is blissfully experienced in the mouth at the same time.
Eventually, the experience of eating impossibly delicious foods results in what Kessler describes as "conditioned hypereating." When we consume enjoyable sugary and fatty foods, it stimulates endorphins in our brains — chemicals that signal a pleasurable experience. In turn, and in Pavlovian fashion, these chemicals stimulate us to eat more of that type of food, while also calming us down and making us feel good.
But is it really addiction?
Conditioned hypereating sounds suspiciously similar to what we might call food addiction. And indeed, studies have shown that hyperpalatable foods may be capable of triggering an addictive process — one that's been postulated as a possible cause of the obesity epidemic.
But is it fair or reasonable to categorize food — something we need to keep us alive — alongside such things as illicit drugs, alcohol, and gambling? Some scientists say yes.
Last year, for example, neuroscientists from Connecticut College claimed that Oreo cookies are more addictive than cocaine. The researchers came to this conclusion after measuring a protein called c-Fos in the brains of rats. They found that the cookies activated more neurons in the accumbens — a region of the brain associated with pleasure, and studied for its role in addiction and reward-processing — than addictive substances like cocaine. Not surprisingly, the researchers were harshly criticized for suggesting that something as apparently benign as an Oreo cookie could be compared to a notorious party drug.