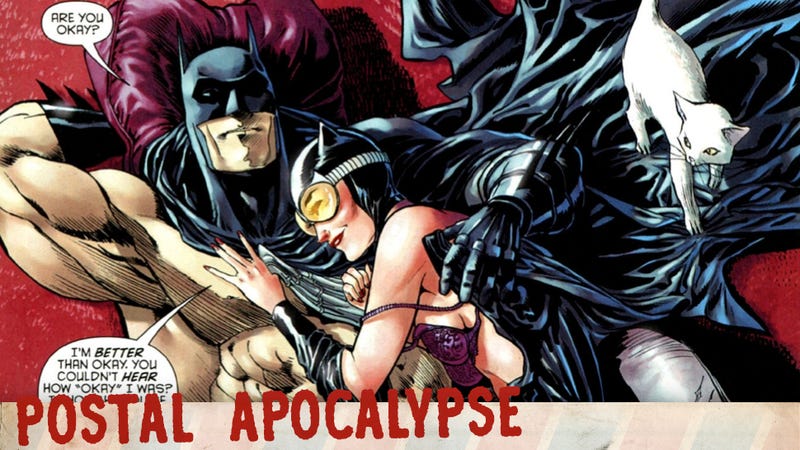 Today's "Postal Apocalypse" will satisfy you like nothing ever has. And while you read it, your cat will be giving you a judging look. Make sure to email your questions to postman@io9.com, but for now, on with the sexy times!
Partyman
Todd R.:

Rob, our apocalyptic postman! This may fall out if your jurisdiction, but I doubt it since everything seems to be game.

I'm having a big party for my 42nd birthday, because, hey, 42! It's a costume party in a couple weeks. Everyone has been asked to come as a superhero, either an "existing" one or make up their own.

Here's where you come in. I need ideas for me. My wife is going as Hit Girl, but mostly because she likes purple. I've thought about Axe Cop, Captain Hammer and many others. Then I realized I have a giant opportunity. I am luring dozens and dozens of unsuspecting superheroes to our home. I should be a super villain! Plus, I've totally got a sinister handle bar mustache going on. (See photo.) I could rule the world with one batch of poisoned margaritas! However, I need name and costume ideas. Thanks!

By the way, I realize I am clearly too polite to be a good super villain, but I'll ham it up for a night.
Honestly, if you're talking about comic supervillains, which I assume you are, there aren't a ton of them that have mustaches and/or beards. There's Sinestro, there's Jeff Bridges' version of Obadiah Stane from the first Iron Man movie, and there's also Terence Stamp's General Zod from Superman II, which includes the benefit of you being able to scream "KNEEL BEFORE ZOD!" randomly at your guests all night.
I mean, you need to have someone pretty recognizably evil so your guests all get the joke, right? And I'm assuming not all of your friends are nerds, or may bring non-nerd dates. So for my money, there's only one option…
Cesar Romero's Joker from Batman '66. Shave the beard, put clown white over that beautiful mustache of yours, and get your evil laugh ready. Everyone will know you're the Joker and a supervillain, and those that know Batman '66 will recognize the genius of the costume. And make sure you send me a pic.
Down the Bat-Pole
Mr. Black:

Ok, so inspired by this weeks question about X-men's penises, I'm wondering about Batman's sexual prowess. Sure, the canon material mentions he had relationships with few of the usual Bat-world suspects like Selina Kyle, and Vicky Vale, but I'm wondering how good is he actually in bed. Is he the dark stallion, or a bat-fart.

The way I see it, things can go two ways - very bad: since he's so obsessed with vengeance/guilt/need for justice/plain ol' sadism, he's too focused on the dark side of life/human emotions to have much knowledge and experience in casually dating and fucking department (In his formative years did he go to booze-fest sorority-parties? No, he meditated on some god-forsaken mountain peak and brooded!).

So that means he could be actually pretty incompetent when it's time for hanky-panky, and, consecutively, all of his hanger-on babes could actually mean even less than assumed to him, and are actually more or less subtly manipulated just to acknowlege he slept with all of them to keep on the appearance of him being a confident playboy.

Not so bad: He focuses all the lust, need for love he never had and/or never can have and of course his vast agility into incredible magic in bed. He picks them by the hundreds, goes on banging the living daylight out of them and they most probably feel like they wresseled Killer Crock for 12 rounds afterwards, but it was one of the most overall extreme physical exercises they'll experience in their whole life.

The downside is that he does it mechanically, animalistic. His dick is so powerful like there's a green Power ring around it, but his eyes are still those of sad and lost 10y.o. boy. Which can also make problems with real, true love interests.

Your opinion?
First of all, thank you, because I will never get the image of Bruce Wayne ragefucking some poor debutante while his eyes pool with tears at the eternal pain at having lost his parents as a child. I may never be able to read a Batman comic again.
But that doesn't mean I can't answer the question. I assume Bruce has to do some sexy times to maintain his reputataion, although it's certainly way less than the public believes. But if he never had sex with the candy draped around his arm, eventually someone would figure it out, and Bruce's cover would be blown. So Batman has a vested interest in banging skanks, is what I'm saying.
As for his skill level? Well, since the defining characteristic of the modern Batman is that he's prepared for any eventuality, this means he has prepared for a situation that he literally has to fuck his way out of. At some point — unlikely as it may sound — Batman's sexual technique may be the thing that saves his life, so I imagine Batman is ready to pull some mindblowing tantric craziness. Obviously, I think Batman would try to avoid this situation as much as possible — if he had the chance, he'd start to seduce someone, but then render them unconscious — but if his penis is the only thing standing between him and the destruction of Gotham City, he's ready.
And a note on Batman's penis, which I thought of last week and feel compelled to share with you — I don't think it's the biggest penis out there, just like Batman's not the biggest, strongest dude. Batman's body is the human body at its maximum physical potential, which means his penis is at the maximum potential, too. Which isn't entirely about size, but also concerns girth and shape. It can't be too big, because that could hurt some folk, plus it would probably get in the way of his crimefighting. There's some perfect size ratio out there for providing maximum sexual pleasure to the greatest amount of people, and that's where Batman's penis is at. Now someone ask me about Superman's dick.