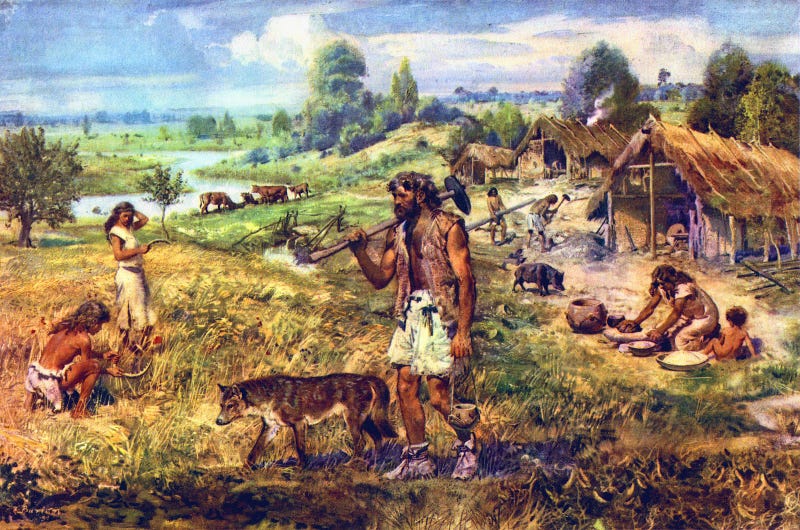 Roughly 9,000 years ago, humans had mastered farming to the point where food was plentiful. Populations boomed, and people began moving into large settlements full of thousands of people. And then, abruptly, these proto-cities were abandoned for millennia. It's one of the greatest mysteries of early human civilization.
The dawn of the age of agriculture falls during the "Neolithic," also known as the late stone age. At that time, about 12,000 years ago, people had already developed incredibly sophisticated stone tools, weapons, and clay vessels for cooking and storage. And when they found seeds that grew into particularly delicious plants, they took them along on their treks, planting them in river valleys on their route, so that they would have a tasty harvest the following year. Once these informal farms had gotten a little bigger, it started to seem less advantageous to keep roaming when there was so much food in one place. In the Levant area along the eastern Mediterranean, nomadic groups who had once lived by hunting and gathering began settling down in small villages for part of the year.
Chart from Michael E. Smith, et. al., in the International Journal of Urban and Regional Research
Families made their semi-permanent homes by digging shallow, round pits for the floor, lining it with smooth stones, and constructing domed walls out of mud and grass. They stored grain in similar structures, in bins that they placed on elevated floors made from wooden beams balanced on rocks. If water leaked in and flooded the granary, their food stores would stay dry. Soon, these wandering people began living in villages for whole seasons, and finally they settled down for good.
The Rise and Fall of the Mega-Village
As people accumulated more food stores, women began giving birth to more children. Nomadic groups of 20 or 30 people became villages of 200. And some of those villages, like Çatalhöyük in the region today known as central Turkey, grew to a few thousand people.
It's hard to say what, exactly, Çatalhöyük was. Was it a city or just some kind of bizarre, outsized village? We know it lasted for millennia, with thousands of people living there continuously from about 7500 BCE to 5700 BCE. Perhaps we might say that was the closest thing to a city in the Neolithic, since hundreds more people lived there than in typical villages nearby. But it had none of the features we associate with the grand, walled cities that emerged thousands of years later in Africa, Asia and the Middle East.
Image of Çatalhöyük by Dan Lewandowski. It's important to remember that in real life, probably many of these buildings would have been broken down and abandoned, used as trash heaps.
There were no palaces, no massive ziggurats or pyramids dedicated to the gods, and no signs of class distinction. Every family had a small, slightly rectangular one-room home with a hearth. Each home was roughly the same size. Streets didn't exist in Çatalhöyük — homes were erected next to each other, honeycomb-style, and people just walked over each other's roofs to get home through doors in their ceilings. Though there was art, there was no writing. And there was little in the way of specialized labor. Unlike in ancient Uruk or Mohenjo-Daro, there were no cottage industries in bead-making or weapons production. Families lived by hunting, but mostly by keeping farms and small herds of animals like goats in the nearby hills.