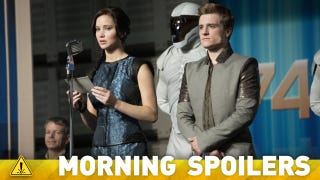 It's all about sequels today: there are rumors about the star of Jurassic World, the plot of Terminator 5, and a director for Beetlejuice 2. Plus, Stephen Amell previews the resolution to last week's Arrow cliffhanger and there's a ton from the cast of The Hunger Games. Spoilers ahead!
Hunger Games: Catching Fire
Sci Fi Now Magazine has a huge spread on the movie in this month's issue, including Jennifer Lawrence explaining where Katniss' mind is when the sequel starts:
She's suffering from post-traumatic stress from the first Games, and she's trying to get her life back. She is living in the Victors' Village now, she doesn't have to hunt any more – which makes her feel useless and bored – and there is part of her life that Gale will never understand. Peeta is the only one that truly knows what she went through. And when she has to go back to the Capitol, it's not a foreign world to her anymore. Not that she likes it, but she understands it now and how to work it.
And Sam Claflin said he's laying down the foundation for the third movie in this one, because of Finnick's arc in the books:
You have to be aware of what is coming up, especially with Finnick, where the journey that he goes on in the third book is quite drastic. I had to familiarise myself with that story to have those elements and insecurities within the second film, so when the moments come when he is pushed to the edge, you know why he is being pushed at that particular moment, and why Annie Cresta [Finnick's girlfriend, who will be played by Stef Dawson in Mockingay] means that much to him.
Director Francis Lawrence explained the shift to political drama from the survival movie of the first one:
The next chapter really opens the world up in a whole different way, with the characters, the narrative and the mythology, but at its core are the consequences of war. That was what was really interesting to me: the idea that people are damaged by trauma and there is real loss. There's a grey zone and it is not always clear who the good guys and bad guys are. I worked hard to bring a humanity to the film; Jen [Lawrence] already brings a lot of that with her and the boys, but I think you guys will all see a different side of people like Effie and Haymitch now. I'm really pleased with how emotional the movie is, I think it is really powerful and it truly is about the characters, even with all the spectacle of the arena.
Tons more details at the link. [Mockingjay]
---
The Giver
The first set photos come from star Odeya Rush's Instagram and show her with Cameron Monaghan, Brenton Thwaites, and Taylor Swift. [Just Jared]
---
Guardians of the Galaxy
Chris Pratt, who plays Peter Quill, really wants us to be excited about Rocket Raccoon:
You think it's a cartoon character, but it's not, it's a very real creature. [Rocket Raccoon has been] tortured his whole life and no one else likes him, so he's lonely and he's angry and it's like, [there are] all these elements [to the character]. You sort of forget about that, you wouldn't think about, [and] hopefully will come to life. I think it will and that's why they hired a really good actor to do the role.

I could not be more excited that Bradley Cooper is voicing Rocket Raccoon,It's a great character. It's probably the best character in the movie, just because it's not what you would expect.
---
Terminator 5
Alan Taylor, while still denying that's he's officially attached, did give his take on the rumor that this next movie will be a reboot:
Well, I would bracket anything I say from hereon because this is still a rumor. But, within the context of the rumor, I think that's a specific case of two wonderful films at the beginning and two films that came later which were less wonderful. I think you absolutely would feel free to define yourself up against the latter ones, but you want to serve the first two, trying to be on the level. The funny thing is, those two films could not be more different than each other. The first one was more of a low-budget horror movie, while the second one was more an amazingly well-produced, glossy thriller with a sci-fi concept. They were both so successful, so there's certain things you learn from them. If you're going to try and enter the franchise, you better try to come in at that level. Also, it's a challenging thing, because what they have in mind is a reboot but not an entirely different way of thinking.

For publicity, I think I'm doing everybody a favor to leave it as a rumor.
---
Jurassic World
Josh Brolin is rumored to be in talks to star in the next film in the Jurassic Park franchise. [Coming Soon]

---
Frozen
Here's a new trailer. [via Slashfilm]
---
Avatar 2
Sam Worthington said that filming on the sequels will start next October. He added:
We are going to start this time next year and we will do two, three and four. I'll be grateful if it finishes.
---
Beetlejuice 2
Here's a wild rumor: The Schmoes Know Podcast says they have a very reliable source that says that Tim Burton's planning to direct the sequel, and even re-arranged his schedule to make it work. [Slashfilm]
---
The Lost City
Off of Gravity, Jonas Cuaron has been hired to write an Atlantis-based movie for Warner Brothers. [Coming Soon]
---
Star Wars
Jedi News reportedly discovered a Disney brochure which describes Disney's plans for Darth Vader-themed TV specials, this coming spring. While the brochure doesn't specify live-action or animated, the best guess is that it'll tie in to Rebels somehow. [Coming Soon]
---
The Age of Adaline
Blake Lively has been cast as the lead in the supernatural romance about a woman who becomes ageless after an accident. [First Showing]
---
The Walking Dead
There won't be a Glenn and Maggie wedding, at least in the next couple of episodes. [E! Online]
Norman Reedus says that any sort of relationship between Daryl and Carol is going to take a lot of time to get to:
It has to be real, awkward and stretch out. It's one of those rare relationships on a show where all the little things are more important than just one big act of sex. If you know a restaurant that has really good pie and you eat it every day, you don't want the pie. You just want a little taste, and it makes it a special thing.
[TV Guide]
---
Once Upon a Time
Eddy Kitsis gave a few more details about what we'll learn when Emma dives into her magic:
We're going to absolutely explore her use of magic, and the reason she kind of puts it away is part of her character. It's one thing to believe, and its another thing to truly believe. You may know, because there's proof of magic, but having it within you and not using it is kind of your denial of something about yourself you're not ready to admit. That's what we're exploring with her character.
Kitsis also said that we still need to learn who wrote the book of fairy tales that we saw in Storybrooke. [Comic Book Resources]
Episode 3.09 will be called "Save Henry." [SpoilerTV]
Jennifer Morrison said she always knew a Hook/Emma kiss was coming:
I kind of knew at some point it was coming. I knew from all the way back, when they brought both Michael Raymond-James and Colin O'Donoghue on, that it was always the intention to create some sort of love triangle with the two of them and Emma…having a very legitimate pull between those two men.

So I kind of was anticipating something coming — I just wasn't sure what and I wasn't sure how. So I definitely thought that it was an excellent moment for them to have an unexpected kiss.
Entertainment Weekly has a photo of the kiss and thoughtfully provided a GIF. [Entertaintment Weekly]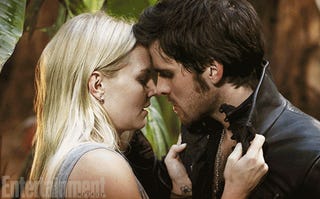 ---
Once Upon a Time in Wonderland
Kitsis also talked about the spinoff, saying that we'll see Alice struggling in Victorian England and learn how the Red Queen came to be:
We actually have a flashback on how [Alice] strains against the restrictions of Victorian England. You're going to see how she got into the insane asylum and you're going to see what its like to be somebody who is different in a place where difference is not tolerated.

[The Red Queen] has made a very uneasy alliance with somebody she's beginning to realize is a psycho, and the trouble of making a deal with a psycho is, what happens when you're no longer useful? Survival starts to kick in, and we're definitely playing with that, because Naveen is very frightening.

We're going to find out who [the Red Queen] is and where she came from and what makes her tick.
---
Supernatural
Jeremy Carver says that, while Castiel has a love interest this season, Dean and Sam will not:
I think you're going see a little bit of everything. I mean I can't quite comment on everything down the line here, but as far as the boys are concerned, there's not a lot of time for [romance], at least here in the early going.
Stars Jensen Ackles and Jared Padalecki also gave a lot of details for episode four, "Slumber Party":
Padalecki: We find out that Dorothy's kind of been trapped in the Men of Letters bunker for a long, long, long time and accidentally she is set free, but so is the witch.

So we have them running around our bunker and we have to employ the help of kind of the coolest computer nerd we know to help us try and figure out what happened and how we can figure out more details on it.

We also get to see into Sam's psyche a little bit because he kind of opens up to Dorothy in ways that he wouldn't have opened up to Dean or Charlie or Crowley or Kevin or Cas, so he gets to kind of tell her things [because] he knows she's not gonna be around the next week or he assumes He's just like, 'I'll just go ahead and level with you,' which is nice. We're gonna see a nice part of Sam.

Ackles: Dean kind of tries to battle with the fact that there's an actual Wizard of Oz and there's an actual Dorothy and it's all kind of being unfolded in front of him. Charlie takes more of the, 'Well, hello,' which is amazing because Felicia plays that great. So yeah, you get a lot of different reactions. Sam's more the business... like, 'OK. Didn't expect that, but down to business. How do we fix this situation that we're in?'
Go here for a complete set of photos for "Slumber Party." [Spoiler TV]