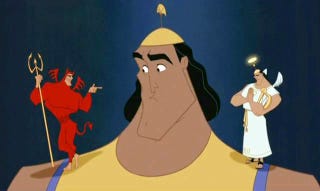 Have you ever had anyone tell you that they feel the "good kind of tired" while you are feeling the much-more-common bad kind of tired? How do you experience having a good appetite versus just being hungry? To put in scientific terms, how do we judge valence?
What Valence Isn't
Valence isn't the term used for the intensity of emotion; that's arousal. You can have an equally positive response to a warm cookie and winning the lottery, but your degree of arousal will probably be higher for the lottery. Nor is valence dependent on what kind of emotion it is. When you hear a slightly suspicious noise in the kitchen at night you feel fear, and when you find out that your best friend can't be at your birthday, you feel disappointment, but the general negativity of the emotions are the same. Finding out how valence, arousal, and variation of emotion work together to make a functional human being is one of the goals of psychologists and neuroscientists alike.
Valence, Arousal, and the Brain
Valence is the term used for the spectrum of emotions from extremely positive to extremely negative. Although we spend much of our lives trying to read each other's faces, we're often pretty bad at it. We're also often bad at reading our own emotions. While some people can differentiate between sadness, guilt, anger, both in their own heads and in other people's expressions, other people only read all of those emotions as negative. They read joy, satisfaction, exhilaration — in themselves and others — all as positive. Valence, then, is the basic way to steer people one way or another, away from any negative and towards any positive.