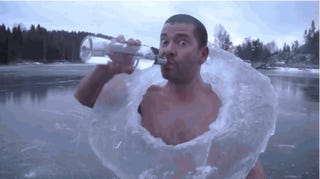 This man clearly harbors no qualms about the cold. The native Norwegian achieved viral renown some weeks back for skating on and swimming in Norway's Lake Goksjo almost entirely nude, save for a pair of speedos and a wreath of ice worn round his neck. We know what you're thinking: How I can I be like this man? Let us show you the way.
The secret to adjusting to extreme temperatures is a gradual physiological process known as acclimatization. Our bodies, highly amenable machines that they are, can acclimatize to cold environments and warm environments, alike. It's why Bostonians' blood runs thick, and why Arizona natives thrive in 100-degree heat. But how does acclimatization work?
Acclimatization
Before we begin, we must establish an important distinction between immediate and long-term physiological response. Our bodies can of course react to extreme temperatures rather quickly, one obvious example being their ability to sweat. Sweating – whether brought on by the strain of exercise, the heavy heat of a muggy afternoon, or both – is an almost immediate physiological response (and an evolutionarily invaluable one, at that). But the sweat mechanism as such is an inaccurate characterization of acclimatization.