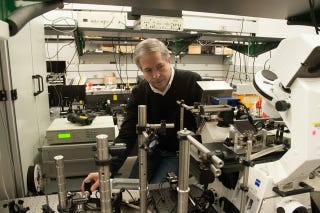 As we move into a future where we want to build materials from the atoms up, we need better microscopes to see what we're doing. Right now, we can't even watch DNA building proteins in real time. We only get muddy snapshots. But that may be about to change.
Photo courtesy of Henri Lezec
Over at Quanta, Natalie Wolchover has an article that will take you deep into the next generation of powerful microscopes — ones that could actually allow us to watch the movement of proteins, or see a virus in the process of attacking a cell. It all has to do with manipulating light to bounce off surfaces that are actually smaller than a lightwave. And our answers may come from "metamaterials," or special materials that are so good at bending light that they could one day be used as cloaking devices.